When a new customer or client walks into your office, you want to make a good impression, right? Well, a professionally crafted lobby sign will give your customers the sense of how professional your organization is.
Lobby signs can be made of a variety of materials and can be created as a single sign using a backer or can be individually mounted dimensional letters. We can produce the look you are trying to achieve in your office space. Request a free quote today!
Office, Lobby & Exit Signs
Make a great First Impression when customers walk into your office!
The lobby of any building is a high traffic area and a perfect place to proudly display the name and logo of your company and give visitors a lasting first impression of your business.
Be creative when designing your lobby logo and let your imagination run. Your lobby sign can be crafted from a wide range and combination of materials, and finished with unique and complementary textures. It can even be back-lit or front-lit, or even made of LEDs.
Once you get past the lobby or receptionist's desk, office signs are needed to direct visitors within the facility. Office buildings, schools and hospitals are just a few of the institutions that rely on suite signage every day. If your office space is in need of new suite signage, we provide a plethora of options to accommodate any budget.
From high-end materials such as stones and metals, to more budget-friendly options like synthetic materials and laminates, we can custom create suite signage that you'll be proud to display. Also, if you need signs to comply with ADA standards, we can help with these as well. Call us today at (678) 714-8700 to learn more about the lobby and office signage options we provide.
Is Your Interior Signage Working For You?
Often, when people think about signs, they think about those that are found outside – either on a building or along the side of the road. Their main purpose is to direct visitors and customers to a business. However, interior signs, such as lobby and other office signs, are just as important to your business and can give your business some added benefits as well as address key challenges.
Indoor signs are key ways that your business can brand itself, as well as direct visitors around your office, provide a certain "feel" to the space, and finally can promote special events or special pricing. Here we will discuss the most common interior business signs that are important for offices as well as any business in another type of space such as a retail outlet or restaurant.
Let's start with Lobby Signs.
Lobby Signs, are also sometimes known as Corporate Identity Signs -
These signs are usually found in the reception area and make the first impression on your customers when they walk into your business for the first time. The lobby of any building, or office, is a high traffic area and a perfect place to prooudly display the name and logo of your company, leaving a lasting first impression.
Lobby or Reception signs are even more important in large office buildings that have multiple businesses located in them. Due to the number of tenants in these types of buildings, they typically will not have any corporate identity sign on the exterior of the building. For this reason, the lobby of your business suite becomes the key place to brand and identify your business for customers and visitors looking to find you.
Since lobby signs are most often created using the business logo, they are key branding tools for your business. Be creative when designing it and let your imagination run wild. They can be crafted from a wide range and combination of materials and finished with unique and complementary textures and can work with any budget.
For a very simple and budget-conscious option, vinyl decals can be applied directly to the wall, or can be placed on a backer and mounted using standoffs.
To create something that truly catches the visitor's eye, and stands out like a piece of art, consider using a complex structure using multiple layers of different media types. Some examples would be using routed PVC or acrylic to create logos or text (i.e. company name) and either stud-mounting them directly to the wall, or using a backer and standoffs to set the sign off from the wall and give more depth and a three-dimensional look and feel.
To bring even more attention to your brand, you might consider a lighted lobby sign that really helps visitors to notice and remember you. They can be either front-lit or back-lit to make them stand apart from the wall space. Today's LED lights use minimal energy, so, these signs can be lit day and night to continue working for your business.
Other types of wall signs are what we call wall graphics, and are usually made of vinyl applied to either the whole wallor part of it.
Walls, like windows and glass doors, are prime "real estate" for advertising your business. But, they don't need to be limited to advertising the latest specials.
With today's advances in materials and large format printing, we can create custom graphics to bring life any wall in your office.
Are you looking for a custom wallpaper to match the décor in a special room?
Maybe, you want to create a mural that tells a story or sets a particular mood, such as a beach scene for a seafood restaurant?
How about decals that represent a special team to add personality to the room?
How about graphics that represent your logo, but is just a bit different to add a bit of interest to a wall that will be seen by many.
We can create custom wall graphics that will make any room unique. Our team will work with you to understand what you are trying to accomplish and recommend the best material to give that wall an exceptional look.
Engage - Inform - Promote
Wall graphics, in addition to other interior signs can also be used to engage, inform and promote your business.
Recently we have seen an increase in the use of "word art", where cut vinyl text is artistically arranged to add interest to the wall.
Customers have used this technique to for inspiring quotes, as well as the company's mission, vision and value statements. As far as these statements, when they are visible around the office, they let both your employees, as well as your customers and visitors, know what your business is really all about. Sometimes these are used in conjunction with a lobby sign and sometimes they are just by themselves.
Informational signs, such as retractable banners, while more commonly used for trade shows, they can be placed in your office to provide an overview of the business or the products and services you offer. They don't have to stay put away for the next show.
Other wall graphics might include posters in decorative frames. These can be changed often and can be used to promote things like specials, inform people of your products and services, or anything else you want to bring awareness to. The possibilities are limitless.
Finally, room signs can identify rooms that have specific uses such as conference rooms, break rooms, etc. These can be artistic or very plain or can follow brand standards if necessary. The key is they help people find their way through your office.
Compliance - Safety - Wayfinding
Have you ever wandered into a business for a meeting and had trouble finding which room you were supposed to be in? While most of the signs discussed so far are designed for branding as well as other ways to engage customers and promote your business, there are other interior signs that should not be forgotten. The purpose of these are more functional than aesthetic and focus on compliance, safety and wayfinding. Let's discuss these in a bit more detail:
Wayfinding: If you've ever found yourself in the situation mentioned above, you probably would have benefitted from one or more wayfinding signs. These can include signs that include arrows to show you the right direction, or they can be directories which include room or suite numbers. These signs are usually free-standing or mounted to a wall, and are centrally located so that all who might need them can find them.
Other wayfinding signs of a sort can be dimensional signs similar to lobby signs which indicate a department or specific office if a business has many departments in the same office building. They let a visitor know that they've reached the right department.
Safety: While many of the safety signs that indicate dangers of some sort are somewhat generic/standard, these signs can also be custom-created to meet the need of the business and made of a variety of materials, depending on the need, especially if that need is unique to your business.
Compliance: Having compliant ADA handicapped signs is a requirement as of 2012 for all new buildings or altered facilities. These signs indicate where permanent rooms are so that people with disabilities can adequately access your business.
ADA signs, as dictated by the Americans with Disabilities Act, must follow strict guidelines which make room identifiers more visible for people who have visual disabilities. These include standards for the text of signs which dictate the types of font, minimum sizes, and the weight of the letters.
Accompanying the text on these signs is Braille, and, for standard rooms such as bathrooms and staircases, there will be pictograms.
Both text and pictograms must be raised, making them tactile, so that people can feel them if they are unable to see the information on them. These items must all contrast against the background of the sign – either light text & pictograms on a dark background or vice versa – to make them clearly visible to those who have seeing difficulties.
Even though there are these regulations, there is enough room for both creativity and branding to make these signs unique or blend with your business' décor, while at the same time conforming to the guidelines.
Other Indoor Signs To Consider
Although most of the office signs we discussed are installed on walls, don't forget your windows or other surfaces for additional possibilities.
Like walls, windows are additional "real estate" that give you additional areas to promote your brand or add interest to your business. For windows, there are a few options available, depending on the material you use. Some of these include:
Frosted vinyls, which can be printed on, and allow for privacy when used on the glass "walls" or windows found within many of today's contemporary offices.
Perforated vinyls, such as those used on exterior windows and the windows of vehicles. These are work well because they can provide a full color graphic on one side, offering privacy, yet allowing those on the other side to still see through the window.
Printed or colored cut vinyl can also be used on windows and glass doors to identify rooms or provide complete privacy.
Finally, the front surfaces of desks and podiums provide another opportunity for brand your business in a place that people don't expect it to be. If you can get people to remember something that is different than expected, they will remember your brand.
Being a custom sign company, we can customize your office signs to meet your needs, while keeping your branding standards. One benefit of all interior signs is that we've discussed, do not require sign permits to be approved for installation, as is the case with external signs. Therefore, the only limitation you have is your creativity as well as the particular circumstances the sign is calling for.
Contact us today to schedule a consultation and let us see how we can bring our expertise to create custom interior signs.
Wayfinding is the common term used in the sign industry to refer to signage placed in strategic location to guide people in the right direction of locations where they aren't familiar with the layout. We see these everyday on the roads we travel. Signs tell us how far to the next city, which way to turn to head in the direction of the next road we will take, or pointing toward destination locations such as lakes and parks.
What is wayfinding?
In the business world, wayfinding signage is often one of the most important but overlooked areas of signage needs. Every business owner knows they need outdoor signage to let clients and customers know where they are located, but what happens once that client arrives on your property.  For instance, think about what would happen at a hospital that didn't have any signage noting the direction of the emergency room.  For some patients that could be the difference between life and death.  Not all wayfinding needs are that critical, but they definitely can help alleviate difficulties during the normal workflow of the day.
Pinnacle Custom Signs Directional Signage guides your visitors to prevent problems in them arriving at the right location.
Why would I use wayfinding in my business?
Identify locations for patrons about things you want them to know while on your property. The most common identification signs include bathroom signage, exit signs, and office numbers or names.
Provide direction. Our clients at Georgia State University had a large need for interior signage that pointed students in the direction of classrooms, labs, and bathrooms before they ever arrived at the actual location sign.
Be informative. Many times you may need to provide more detail to someone visiting your workspace such as a map of the property with information about all of the locations around the property.
Warning signs such as no smoking, toxic, do not enter, or keep out signage that lets someone know that they need to heed advice.
Where should I place wayfinding signs?
The most effective wayfinding and directional systems are usually based on figuring out the human behavior of someone who is new to your location. If you aren't sure how people reacting upon first arriving — ask the person who sits at the front desk — they can provide you with some good insights.  If that doesn't work in your situation, apply these simple principles: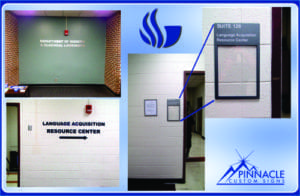 Do not make them think! Create a comprehensive, clear and consistent visual communication system with concise messaging.
Show only what is needed and relevant is to the space, location and / or navigation path.
Remove excessive information to create a clear visual environment ahead.
GA State Dimensional Letters & ADA Signage Wayfinding signage takes the guess work out and guides you in the right direction
Our team has the experience and expertise to help you figure out the most effective wayfinding plan for your business or location. Since we often visit a property for the first time for a consultation, it is easy for us to try and figure out what we would need to know in order to navigate a building.  We also are experienced in ADA compliance and can ensure that your signage accommodates any necessary ADA guidelines to help your clients and customers know exactly the right information to get to the right location.
Recent Office Signage Projects
However, on occasion, we have customers that have a need for the same type of lobby sign to brand multiple locations, such as for a franchise.
Creating Lobby Signs for Multiple C2 Education Learning Centers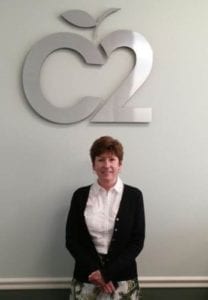 C2 Education Lobby Signs C2 Education is a tutoring center that has over 110 locations nationwide and provides personal tutoring, SAT/ACT test preparation and educational support for students from elementary through high school levels.
We started working with C2 Education about three years ago as they opened several new centers in the Atlanta area. For these new centers, we would provide a "standard package" which included window graphics highlighting their services and their hours of operation as well as their building sign, most often a channel letter sign.
Approximately a year ago, they came to us looking for a simple and elegant lobby sign that would be easy to produce in quantities and could be shipped nationwide, so that all their centers had the same branding. The signs also had to be easy to install, as they would be installed by the local franchise.
The solution we developed is a Brushed Aluminum face with 1" Black Ultra Board backers (a sign composite made of a foam core sandwiched between two layers of polystyrene) that was routed in such a way as to make the signs appear to float on the wall. The sign would then be mounted to the wall with VHB (very high bond) tape.  The final product is lightweight (to minimize shipping costs) and looks polished and professional.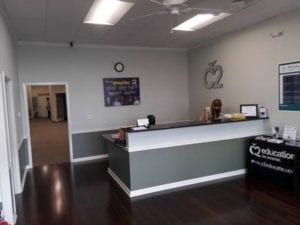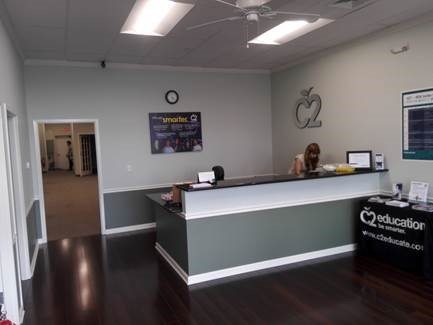 As for having the local centers install these signs themselves, our team came up with a solution that would help the centers to do this like a professional sign installer.  To accomplish this, we also route a styrene template that is used to show where to properly place the pieces of the sign before adhering them to the wall.
The pattern is then shipped with the sign along with step-by-step instructions to mount their sign to the wall.  We have since produced dozens of these signs and they have been installed in centers from California to New Jersey.
Whether you need one or multiple custom lobby signs for your business, our team can design a look that makes the impression you'd like to make on your customers when they arrive at your location.  Let us help you with your next lobby sign project.