Cintas Uniform Services
1055 Progress Industrial Blvd, Lawrenceville, GA 30043
(678) 389-7078
Whether you're a small business owner or a large corporation, Cintas can tailor a uniform rental program to fit your budget and needs. Cintas delivers comfortable and professional-looking uniforms and apparel to help your employees get Ready for the Workday®. Cintas also provides its clients things such as providing bathroom services and more.
Cintas is well known provider for rental uniforms across the county. The Cintas located in Lawrenceville, GA provides tailored rental programs for comfortable and professional-looking uniforms and apparel to businesses located in Lawrenceville, Johns Creek, Buford, Duluth, Snellville, Loganville, Monroe, and Athens. This Cintas location is a repeat client for Pinnacle Custom Signs.
Updated Business Signage
Most of the projects we work on are long planned out updates to business signage planned by the owners of a business. This project was different. The service manager for the Lawrenceville Cintas contacted us with a project idea – she had been given a budget to spruce up the office prior to the arrival of a corporate leadership visit. The owner of this location was out of the country for a time and placed complete trust in the service manager.
Acrylic office wall signs.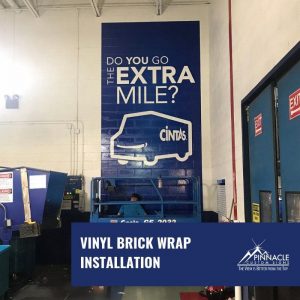 Some of the challenges in the space was how to add meaningful decor and branding without taking up the entire budget. One way we did this was with acrylic signs mounted on standoffs. The standoffs created a clean, professional feel while also making the installation on the walls easier due to the textured wall paper. The acrylic signs we installed were a combination of etched acrylic with the logo and mission/vision statements and frosted frames for 4×6 photos. A few of the acrylic signs also used printed vinyl to add beautiful images to some areas.
Brick vinyl wall wrap.
Because of the textured wall paper, we weren't able to used vinyl wall decals inside the main office. The warehouse area however held the perfect opportunity! A large wall graphic was placed in the wash-up area in the main warehouse. This tall, bold graphic can easily be seen within the warehouse and added a pop of color to an otherwise drab area.
What to look for in a sign company:
Sign shops are not hard to find. From stand alone companies like Pinnacle Custom Signs to franchise locations like Signarama, you can find a sign shop just about anywhere. But what should you look for in a sign company? What sets them apart?
Start with their business history.
A newly formed business doesn't have the experience both in designing, manufacturing, and installing signs and in customer service. Pinnacle Custom Signs has been in business for over 8 years; owners, Don & Theresa Conklin have over 20 years of business experience running other companies. And the Pinnacle Team has over 20 years of experience in the sign industry.
Next, look at their reviews.
You want to look at online reviews both to see how many people they have worked with and what the general impression is. For instance, if a sign shop's reviews are consistently good and mention how quick the turn around on the sign production is, then you know that they are good for the quick sign project. On the other hand, if they have reviews that consistently mention a lack of communication, then you know where there may be issues.
Look at that project capabilities.
Not all sign companies produce the same signs. Some specialize in vehicle wraps, others in bill boards. If you know what kind of signage you need, you can focus in on the companies that are good at those sign types. For instance, Pinnacle Custom Signs does indoor signs, outdoor signs, vehicle wraps and trade show signage. They don't typically do bill boards or yard signs.
Next, look at their network.
Even if a sign company doesn't do all of the sign types, chances are they are part of a larger network of sign companies. Pinnacle Custom Signs has sign partners around the country that they can call on to help do site surveys and installation. If they need a quick turnaround on a item, they have built the relationships with the sign material suppliers to get the materials needed. And, they work with the Buford Business Alliance, a local business association that focus on building up and supporting local small businesses, so you know that they truly care about your business welfare.