Custom Business Signs For Your Lobby – Dallas / Fort Worth, Texas
What type of lobby sign do you need for your location?
No two businesses are perfectly alike with the same location, branding, etc. That is why it's important to look for the right custom sign for your needs.
Lobby signage can range from logo signs to wall graphics – all depending on your need and desired look. Before you approach a sign company about purchasing a sign, think through these things.
What is your brand image? Your brand is very important and it needs to remain consistent throughout all of your marketing, signs included. Most businesses have some form of logo that represents their brand. Turning a two dimensional logo into a three-dimensional logo sign allows you to add more elements to your logo.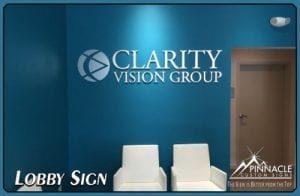 For instance, Clarity Vision Group purchased a logo sign for their lobby in addition to new building signage. An important aspect of their branding is the idea of clarity; so when we finalized the design, they choose a PVC dimensional wall sign with brushed aluminum veneer to be mounted on a bright teal colored wall. The result was a crisp, clear look that reinforces the idea of clarity.
What is your budget? Budgets aren't anyone's favorite topic of conversation, but it's an important consideration. Your budget helps you focus on what does and does not matter. For instance, instead of using real metal you can use PVC with a brushed aluminum veneer like in our example above. Or, instead of a dimensional sign, you could do a wall graphic instead.
Your budget will also give your sign company guidance on what to recommend for your space. After doing an on-site inspection, they should be able to give you estimates on what various types of signage would cost. This allows you to do what you can now and plan for future additions.
What is your space like? The size and layout of your reception area is going to help determine what signage you need and what you don't need. For instance, if there is a wall behind your receptionist's desk, then you can mount a logo sign there. But if there is a window behind the desk, you may go with a window graphic instead or place a logo sign elsewhere.
Whether or not you are leasing, renting, or own your location is also important. Many rental or leasing companies have restrictions on what signage can and can not be used. Let your sign company know up-front about any restrictions so that they can include that in their initial estimate. There are several different ways of mounting signs on walls that may avoid excessive damage.
When should you update your signage?
You should update your signage whenever you move into a new location or have a branding update. A brand update can be a complete redesign of your brand or just a simple 5-10 refresher.
When moving to a new location, talk to your sign company about what signage can be repurposed and what you will need to replace. Mounted signs are fairly easy to move but wall and window graphics will need to be replaced.
Why is it important to have good business signs in your reception area?
Your reception area is the first solid impression that a customer has when they come to your location. Yes, they may see your marketing materials and they certainly do see your building signage. But you usually have a lot more control over what your lobby looks like.
Think about what type of impression you want customers to have. That will help you decide what décor, furniture, and signage you need. For example, a doctor's office is going to have a waiting area for patients; they would want a clean, professional logo sign at the check-in desk. If they have a kids area, it's a great place to add some fun wall art.
Are your office signs working for you?
Your signs should serve a purpose – branding, wayfinding, engaging & informing. Signs that serve no purpose are quite often a waste of resources. Typically, a business will have a logo sign that helps visitors identify that they are in the right location (brand recognition). Wayfinding signs should be easily viewable, like the company directory, or restroom signs or exit signs. Other signage like wall graphics or window graphics can be used to engage and inform visitors about your business. Talk to your sign company about what your goals are so that they can recommend the best signage for your needs.
Location Data?
Additional Information: