About Pinnacle Custom Signs
Our Mission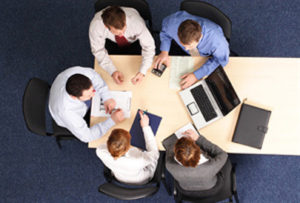 At Pinnacle Custom Signs, it is our personal goal to be our customer's first choice for all their signage needs by focusing on delivering outstanding customer service and high quality products. That's just what we do. No gimmicks – just great products and great customer service. In this section, you can learn more about our people, our culture and our experience. We are confident you will find Pinnacle Custom Signs is the best choice for any signage needs your business might have.
Meet Our Team
Having extensive background in graphic design, art, and sign making, our creative staff is able to turn any idea into a tangible product. They are highly experienced in what they do and know exactly how to produce high-quality signs, even if it means working their magic to suit your budget. All you need to do is tell us what you want.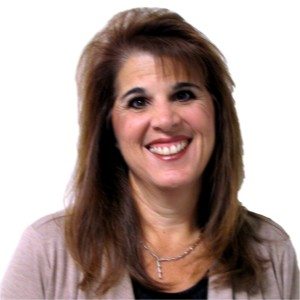 Theresa Conklin (Owner)
Theresa has accumulated over 20 years in client relations and project management experience. She has always been responsible for making sure her clients are provided the best product possible. Throughout her career, Theresa has refined her talent of listening to her client's desires, determining exactly what they need and then finding a way to successfully deliver that need to them.
Theresa is also skilled in customer operations and business analysis. She has served in numerous leadership and management positions within the technology field, which proved very beneficial since she is now using the sign industry's most cutting-edge technologies.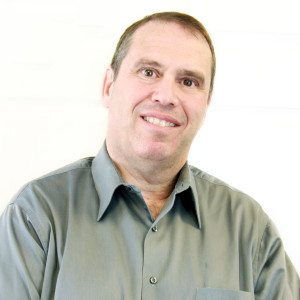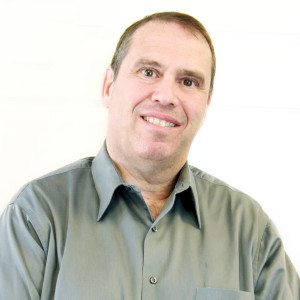 Don Conklin (Owner)
Over the last 30 years, Don has spent his career handling multiple organizations and ensuring client satisfaction. He believes a great company relies on a quality product to generate business – not aggressive sales tactics.
Before establishing Pinnacle Custom Signs, he served in several executive positions focused on sales, marketing and customer operations. From his leadership roles, he has also gained extensive experience in project management, financial planning, and leading edge technology. His history of successful leadership, along with his business savvy has poised him for success in his new business venture.
Watch a video of Don talking with Jack Werner of Signworld about our decision to open Pinnacle Custom Signs.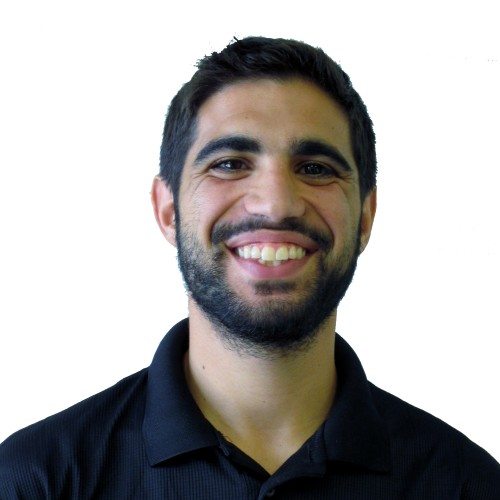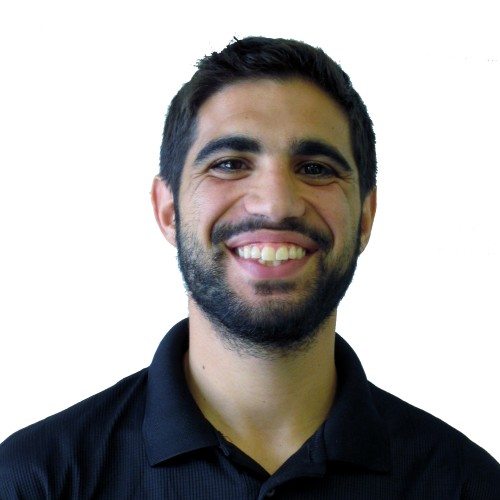 Matt Conklin (Director)
With a degree in Business Administration, Matt's entire career has been directly related to management, customer care, vendor relations and business strategy. He has served in leadership and management roles for several different companies and has always been focused on making his customers happy.
Matt brings freshness and innovation to a company that is constantly trying to stay ahead of the curve. He adapts quickly to new trends and is able to do business with any personality. Matt and his wife, Christy, live in Lawrenceville and enjoy spending time with their son, Noah.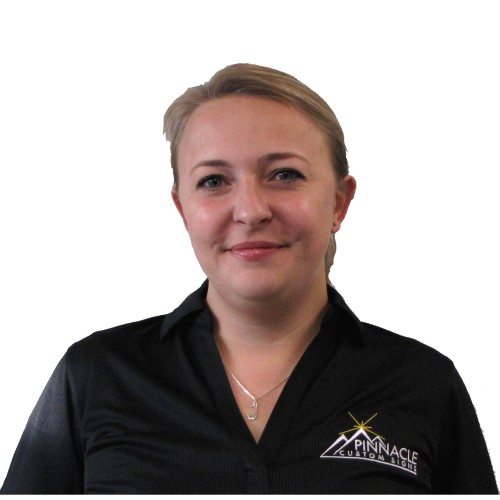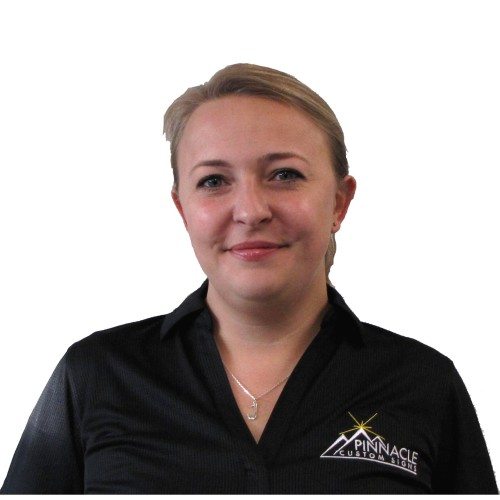 Joanne Turner (Production Manager)
As Pinnacle continues to grow, we have added Production Management capabilities to our organization. Joanne brings with her more than a decade of experience in graphic design and sign making, as well as management experience in the production area. Her attention to detail and process are a great asset to our team and will help our team to provide our customers with high quality products.
Joanne, and her husband, Deven, live in Grayson, GA.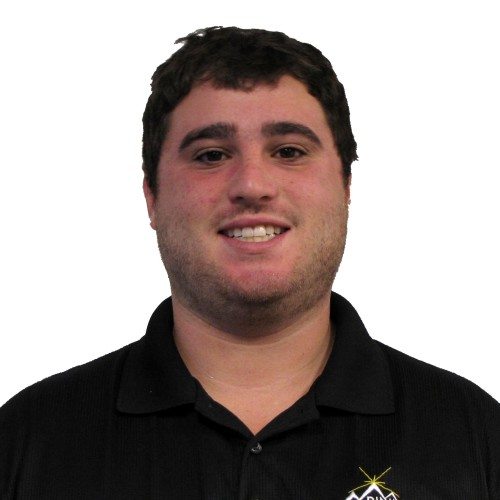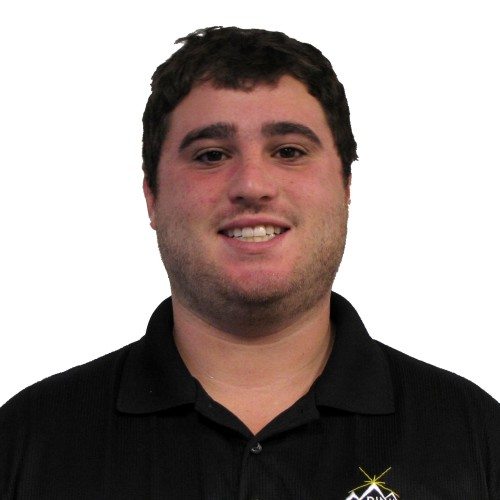 Stephen Conklin (Customer Service & Sales Associate)
A recent graduate of Georgia College in Milledgeville, Stephen has extensive customer service experience, which will serve him well in the role of Customer Service Associate. In addition to helping with sales and customer service, he will also be helping in the production area as he learns to also make signs. This gives us the ability to have flexibility within the organization to meet our customer's needs in a timely fashion.
The fresh energy that Stephen brings to the team is exciting. He lives in Dacula with his dog, Chongo and enjoys spending time with his friends.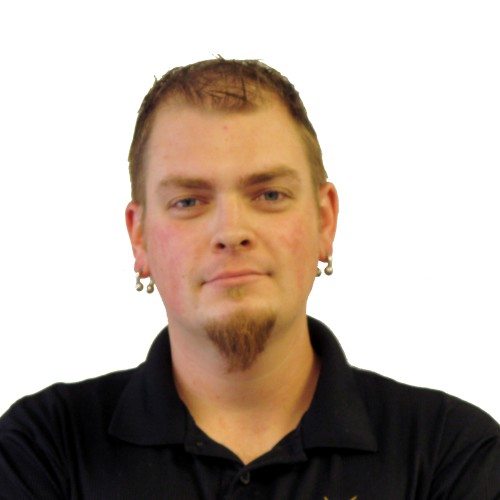 Josh Whitt (Design & Production Associate)
Josh joined our team in June 2014, and came to us with close to ten years of sign and graphic experience. While his formal training was primarily in graphic design, Josh brings a good bit of production and installation experience, as he served as a Production Manager in two of his previous jobs. Josh's experience in color profiling will also be quite an asset to our team in making sure we stay true to our customers' color needs.
We have found that Josh has quite a witty sense of humor that keeps us on our toes. In his spare time, Josh participates on an air soft team that is getting some national recognition as well as spending time with his son, Ethan. We are very pleased to have him on our team.
Misty Rego (Administrative Assistant)
Misty joined our team in January of 2015 after Stephanie left to begin a career at Delta Airlines.  Her primary responsibilities are in answering our phones and assisting customers when they call with new requests. She will also be helping with our blogging, social media and obtaining sign permits as she learns the sign business.
Prior to joining our team, Misty worked at our local UPS Store and helped us with many of our shipping and notary needs.  She now brings that experience to our team, which has become increasingly important to bring in-house as we grow.  Misty and her husband, Ricky (coincidentally, our UPS delivery guy), have twin daughters who keep them busy when they are not at work.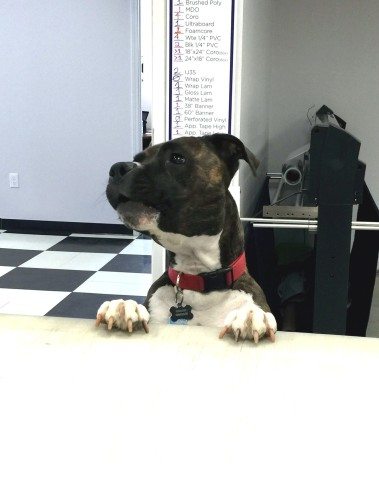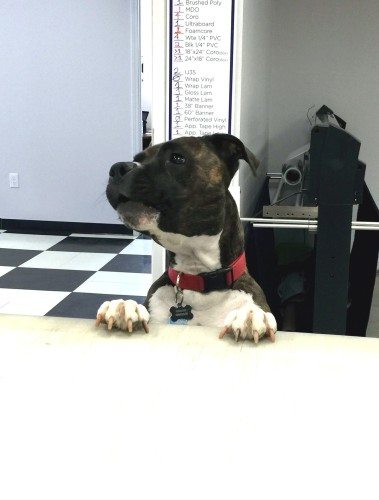 Chongo (Shop Dog)
Stephen's dog, Chongo, joined the Pinnacle team full time in January of 2015.  With all the extra space, we needed someone who could roam both inside in out.    Chongo's primary responsibilities include greeting customers as well as our delivery guys, playing tug of war with his heavy-duty rope (for anyone who is willing) and guarding Madame President (meaning his napping bed is in her office by the window so he can see who's coming to visit).
He also joins us at our  daily production meetings on occasion as you can see in his picture.   Chongo spends his spare time when not at the office sleeping, chasing cats, and barking at door bells.
Would you like to join our team?
As a locally owned and operated company, we're committed to building long-term relationships with customers and employees alike.