ADA Signs - Braille & Handicapped Signage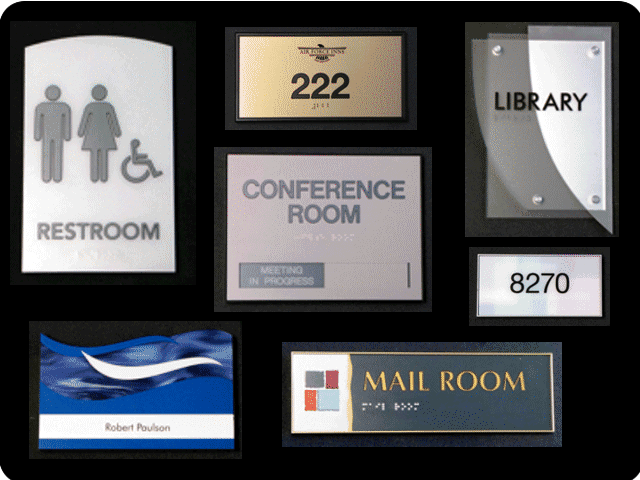 Why Create Custom ADA Signage?
Have you ever wandered into a business for a meeting and had trouble finding which room you were supposed to be in? Take that feeling you had and multiply it by 1,000 and you'll get a glimpse of what someone with a disability would feel in a similar situation. The Americans with Disabilities Act [ADA] requires businesses to have signage that meet very specific specifications so that people with disabilities have equal opportunities. At Pinnacle Custom Signs, we can not only create a customized sign with your branding on it that meets today's ADA requirements, but we can do it at a fair and highly competitive price.
It's Mandatory For New Buildings
Having compliant ADA handicap signs is a requirement as of 2012 for all new buildings or altered facilities. You will need indoor handicap signs that indicate where permanent rooms are so that people with disabilities can adequately access your business.
When you order your signs from Pinnacle Custom Signs, we can create attractive business sign designs that will fit in with your organization's décor, yet meet the ADA sign requirements as well. Perfect for offices, schools, and even churches, customized interior signs made by a certified producer can help you look good and be compliant too!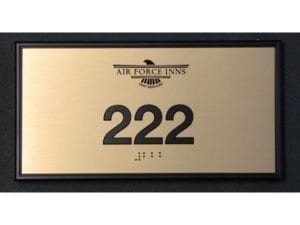 Do You Have Braille Signs Up Yet?
Visual signs work well for people that can see, but according to ADA standards, the signage for your business must also be able to effectively communicate to individuals who are sight impaired. Customizing ADA signs with braille is an affordable way to get your organization into compliance with these standards! At Pinnacle Custom Signs, we can design signs for business purposes that include:
pictograms
raised text tactile signs
engraved signs
This allows you to properly label each permanent room you may have that someone with a disability may need to access. Just because you make your signage ADA compliant doesn't mean you need to sacrifice your branding or color scheme to do it. Contact us today to start a conversation about how we could help improve your ADA signage at fair and competitive rates!
It's An Opportunity To Extend Your Brand
With our custom interior signage based on your branding and needs, we can combine your wants with the ADA signage standards to create the perfect signs for your business. The more times someone sees your brand, the better they'll be able to remember who you are and what you do. Custom interior signs with ADA compliant specifications can include your brand on each sign, yet still meet government regulations. This ensures that people will always be able to your public places and facilities and limit any liability you may have without these signs present. If your business could braille signage or just a new look, let us know. At Pinnacle Custom Signs, we can create the perfect sign for you today!
ADA Signage Projects for Atlanta Public Schools
In our July & August newsletters, we wrote about the new routing/engraving machine know as a Gravopgraph IS8000 that we recently acquired. The machine can route dimensional letters as well as making Americans with Disability (ADA) signage using raised letters and Braille.
In mid-July, we were contacted by Brent Baily and Doug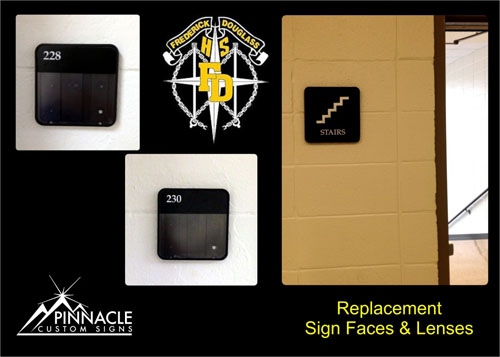 Dubay at Atlanta Public Schools (APS) about a sign project at one of their High Schools, Frederick Douglass High. IADA Sign Lenses & Replacement Sign Faces for Fredrick Douglas HSt appeared that several of the signs identifying room numbers were either completely missing or had the lenses on the front of them missing. There were also some other ADA sign-faces that needed replacing, but did not have these lenses.
According to ADA signage standards, all permanent rooms in a public building need to be identified with tactile (or raised) text and Braille. However, raised text is not required for rooms that can change designation over time, such as the name of the teacher in a specific classroom.  The ADA also requires some permanent rooms, such as restrooms, also carry international standard pictographs.
The lenses that we mention above, allow the administration of Frederick Douglass High School to further identify the room in addition to the room number, by providing a clear window that allows for a changeable paper insert so that the room designation can change over time, if necessary. The project required that we add room numbers and Braille to the replacement lenses as well as completely replacing some complete signs (lens and frame) for a number of rooms.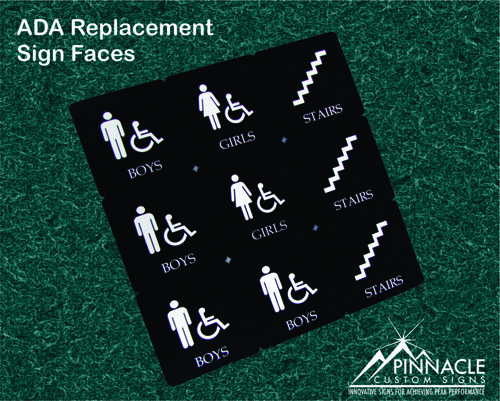 After doing a walk-through of the school, we put together a bid and were excited to learn we had won the business.   ADA Replacement Sign FacesOne challenge we faced on this project was that they wanted the signs up before school, which was due to start within ten days and the materials we needed were on back-order. So, to get the school year started, we created temporary room signs for them made of PVC and cut vinyl.
Once the materials finally came in, Matt and Stephen started the work of creating and assembling over 100 signs. It was tedious work, but with the new machine we have, it went quick and they set up an efficient system for cutting, cleaning and assembling.  At the end of the month, this dynamic duo went out to the high school and put the signs up.
For us, this was a great example of being at the right place at the right time. The customer found us through our webpage only two weeks after we installed the new equipment.  We have a few opportunities with several other customers that we can now fabricate "in-house" due to the new equipment, and can't wait to get going on it.
Office & ADA Signs for New Building at Georgia State University
Over the course of the last year, we have worked on many projects at Georgia State University (GSU), working primarily with both their renovation and construction departments. The projects consisted primarily of providing them with custom interior ADA signs as well as, more recently, brushed aluminum dimensional letters identifying the various departments on campus, giving them a professional look.
In January of this year, Stephen was working on a job with the construction department and their supervisor, Lachlan Patterson, mentioned a large project they would be working on over the summer. They had recently acquired five floors of the old SunTrust building at 1 Park Place that would need signage once the renovations were completed.
For those unfamiliar with GSU, it is a university in the heart of downtown Atlanta, occupying floors of multiple downtown buildings as well as their own buildings.
Lachlan's team is responsible for making sure that once the renovations are complete, they have the proper GSU sign standards. In July, we got a call from Todd Muraski with Abion Scaccia, the company that was doing the renovation work for the new building and was coordinating the signage to go on these new floors.
After reviewing the floor plans and the list of signs received from Lachlan's office, we  determined there were several types of signs that would be required:
Changeable ADA Signs with Windows. These are standard 8″ x 8″ ADA signs produced for GSU that have raised numbers with Braille to indicate the room (or cubicle) number and have a clear window.  These windows allow for a paper insert to identify the classroom or faculty office.  This type of solution allows GSU to move offices, classrooms and cubicles without having to purchase new signage every time there is a change.
Permanent Room ADA Signs and Names were created for other rooms that had a permanent function such as copy rooms, electrical rooms, conference rooms and the such. These signs were created similar to the ADA signs described above but did not have windows for changing the room names.  These had dimensions of 8″ x 10″ and had tactile letters to identify the room.
Departmental Identification Signs were needed to identify where various departments were housed in the newly renovated space. There were two different types of these signs created depending on the characteristics of the space they were to be installed:
Two of the departments required Dimensional Letters made from Black PVC with a Brushed Silver veneer. For the Office of the Dean of the College of Arts and Sciences, these were installed on a wooden wall, giving a very rich look to the office.  For the Department of English, we installed the letters on the front of a wooden reception desk.
Frosted Vinyl on Glass was used to identify the Department of Computer Science and Department of University Communication using a specialty vinyl that gives the appearance off frosted glass without the expense.
As the project worked to a close there were a couple of additional signs that were needed. The whole project brought GSU into five floors of a new building just in time for the start of the school year. We hope that all the students at GSU will have a great school year and find their way around the new building.