Building Signs
The business sign is the basic link to customers in 98% of all US retail businesses.
You've spent time picking out just the right location for your business, whether it is a new business or a new location for your existing or expanding business. That attention to detail should not end with just finding the perfect new spot! Now you need to bring your customers to your new front door.
How will you lure them in? What type of sign will you use to attract new customers or let your existing customers know where you are? There are many options when it comes to building signs for your business and we can work within your budget.
Sometimes you might be limited by covenants or municipal rules that constrain the materials or size. Our creative team has plenty of experience with this and can help work within these boundaries and still provide you with a sign that will get your business noticed.
Pinnacle Custom Signs can help you with all your exterior signage needs. We offer a full spectrum of outdoor signs that will get your business noticed as potential customers drive past your facilities.
However, don't let this limit your ideas as to how we might be able to help you. If you have an idea share it with us and then let us do our magic. We offer free consultation and on-site surveys and will be happy to work with you to help bring your customers to your front door. Let us help you with determining the optimal signs for bringing customers to your building.
If you'd like for us to contact you about your outdoor signage needs, please complete the form below. Or, you can call (678) 714-8700 and let us see how we can help with your outdoor signs. Remember that a business with no sign is a sign of no business.
An Outdoor Sign is important to attract new customers, bring in new customers and create impulse sales. We have a large selection of outside signs that will introduce your business to the world outside your business doors. Below are examples of our work:
Lighted Signs
Draw attention to your business at all hours of the day with an lighted outdoor sign. These signs work for you at all times and illuminate the way to your front doorstep.
An extremely cost effective method for advertising, these signs keep your business identity in front of current and potential customers both day and night. If you've ever driven past a strip mall at night, then you're probably familiar with the effectiveness of channel letter signs. One of the most common forms of signage, channel letter signs can be created to fit any budget and idea.
According to the Small Business Administration (SBA), 85% of businesses sales will come from within a five mile radius. A lighted sign is a constant advertisement for your business to anyone who patronizes your local area.
Outdoor Business Signage
The business sign is the basic link to customers in 98% of all US retail businesses.
An outdoor sign is important to attract new customers, bring in new customers and create impulse sales. The most efficient form of advertising is the signage located on the company's property.
In a ten-year survey of businesses that recently put up a new sign and their first-time customers, it was found that almost half the customers said they learned about the business because of the sign, and not by way of the traditional advertising methods such as newspaper, TV, radio or word of mouth.
AAlpha Mini Storage
In August of 2013 we were contacted by Dianna Tuttle, Manager at AAlpha Mini Storage in Cobb County.  She was looking for a local sign company that could help her out with various projects around the property.  A Alpha Mini Storage in Smyrna, Georgia provides quality self-storage and storage supplies for businesses and residents of Vinings, Mableton, and Atlanta. They offer a choice of either conventional drive up storage or climate-controlled storage.
After the first meeting with Dianna, all she wanted us to do was a very small banner for the street advertising free rent used to draw new customers.  The banner was not that difficult and we quickly produced it for her and mailed it to her.
Because of our promptness on this small project, she contracted us to do cut vinyl letters on all of her storage units.  We were able to cut and install these letters with a quick turnaround time as well.
By demonstrating our dedication to service, we quickly became their "sign company".   In early January of 2014 we again met with Dianna and her boss, Norma Taylor, to discuss replacing her current lighted box sign.
Time to Replace the Old Sign to an LED Sign
The old lighted sign box used fluorescent bulbs which tend to lose brightness and burn out over time. They were looking to change the box sign to channel letters for a cleaner look on the side of the building as well as to change the technology to LEDs, which burns much brighter and are much more energy-efficient.
While they were changing out their sign, they wanted to update their look and make some renovations to the property, which was about twenty years old.  Part of the overall project included painting the facility.
Because of this, we had to coordinate with painters for both the take down of the old sign as well as the installation of the new sign.  When we went out to take the old sign down, we found it to be a solid welded steel box, which was over 32 feet in length.  Our sign installer was not able to do it with his typical equipment and we quickly found out we would need to rent a crane to help us get it down.
Once we got the sign down, the painters were able to paint the facility behind it and we were able to install the new channel letter sign for them. The new sign stands out from the facility and makes a bolder impression on customers as they pass on the street.
If you are looking to give your business a new look by changing out your building sign, we can help with the entire process.
1045 On The Park
In October of 2013 we were contacted by AIMCO out of Denver Colorado, one of the largest owners and operators of apartment communities in the United States. As Property Operations being the heart and soul of AIMCO, they are dedicated to ensuring that every aspect of their communities is run professionally, with the utmost respect for residents' happiness and safety.
They had recently purchased an apartment complex on Piedmont Road in Midtown Atlanta called Park and 12th that they later changed the name to 1045 on the Park.  Shortly after they purchased the property, we went down to do a site survey to see what signage needed to be updated in order to make the complex more appealing to residents.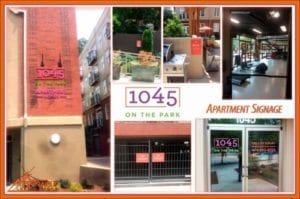 One thing we realized was that there was no outside sign identifying the property. Next, we noticed that they had a lot of windows that would be perfect canvases for window graphics. These window graphics could be a great way to relay important information and to give the apartments a high quality look. Lastly, there were other signage throughout the property that were inconsistent. After the site survey was complete, we provided measures and ideas to Erica Garrity at AIMCO.
We attacked the project from two fronts: the identity sign and the other signs that would be placed throughout the apartment complex. Working with the city codes of Atlanta, we determined that the only signs that were allowed in this residential area were wall signs without internal lighting.
We decided that we would create a large identity sign routed out of High Density Urethane (HDU) and light it with indirect goose neck lighting. Erica and her team worked on a design that would fit that theme and concept.
They also worked on the design for the other signs and window graphics. There were a few complications along the way as there were many rounds of revisions before the final versions were set. We were also delayed since AIMCO was trying to rename the apartments. The legal process bogged us down, and we did not get final approval until May of 2014.
In June we performed all of the installations. Erica flew in from Denver to supervise, and the installs went out without a hitch and AIMCO was excited about the end results. This was a very large undertaking due to coordination with different entities in different states, the variety of signs, and the overall theme of the project. Largely, the project management of Joanne on our staff was instrumental in getting this all done. We look forward to working with AIMCO on future projects in the Atlanta area.