Location, location, location. When looking for signs to identify your location, you must think about a variety of variables, for example, line of sight from the roadways, local ordinances and regulations, the cost, and more importantly – what kind of signage works best.
Your organization's space needs to be obvious, particularly if you are a retail-based organization or have people visiting your locations. Let us assist you to determine the best sign for your organization! We have years of experience in the industry and can work with you to make sure you get exactly what you need.
Types of Sign Lighting
A valuable sign is an effectively lite sign. Even when your business is only open 9 to 5, a sign which is properly illuminated will likely to be easier for anyone to see, developing name awareness and recognition for your business. Here are several ways that a sign could be lighted.
Backlit "Halo" Lighting
"Halo signs are signs that are illuminated from behind, creating the halo effect. These signs are generally easy to see."
Interior Lighting
Commonly used with light cabinets and channel lettering, interior lighting is when the light source for the sign is embedded within the sign itself. Because most signs use standard, white LED lights, the materials that the sign front is constructed of will usually determine the color of the sign. In some instances, you may also integrate tinted lights as well. It is possible to combine the face lighting and halo lighting.
Cove Lighting
Cove lights are frequently used to illuminate signs like billboards, canopy signs, and more. It offers great lighting with excellent power savings, particularly by using LED lights.
Building Mounted Signs
Signage that is attached to a building's exterior is considered building mounted signs or simply building signs. There are various types of signage which can be placed on the exterior of your building. By considering the local sign rules and regulations are and what works best for your building, signage design, and budget, you can narrowing down your options. Here are a few types of signs to think about.
Lighted Sign Box
Also called sign cabinets, a sign box uses interior illumination to illuminate the sign face that is a partially translucent material. You could have a single or double-faced sign; additionally, the sign face can be customized to have things like an embossed face for a bolder look.
Light boxes could be attached in a variety of different ways, such as being pole mounted, a masonry base, wall mounted and more. An additional benefit to sign cabinets is that the sign graphic may be fairly easy to swap, which makes it a cost-effective solution. Discuss these options with your sign company to determine what's going to work for your sign.
Channel Letter Signs
Also known as dimensional letters, channel letters is a widely used form of signage because of just how easily it can be to customize it. You could make a sign by using virtually any typeface as well as almost any graphic element easily. The components used are usually relatively lightweight and also cost-effective – including led lights, aluminum, and plastic casing materials.
Awning Signs
Also called canopy signs, these kinds of signs utilize a functional building element to advertise your business. In basic terms, an awning sign is an awning with graphics and/or lettering painted or screen printed on top of its surface.
Made from heavy canvas, it may be lit up and, if so, could be illuminated in a number of ways, including backlighting. A backlit canopy sign is lighted from beneath using a high output light source that shines through the canopy material, exposing whatever graphic or text is on it. It also improves nighttime readability and supplies light to space below.
Looking for A Signage Company?
Pinnacle Custom Signs is a signage company that works with national and local businesses to create custom signage solutions. We work with business from development to production to permitting and installation. If you are looking for building signage in Birmingham, contact us.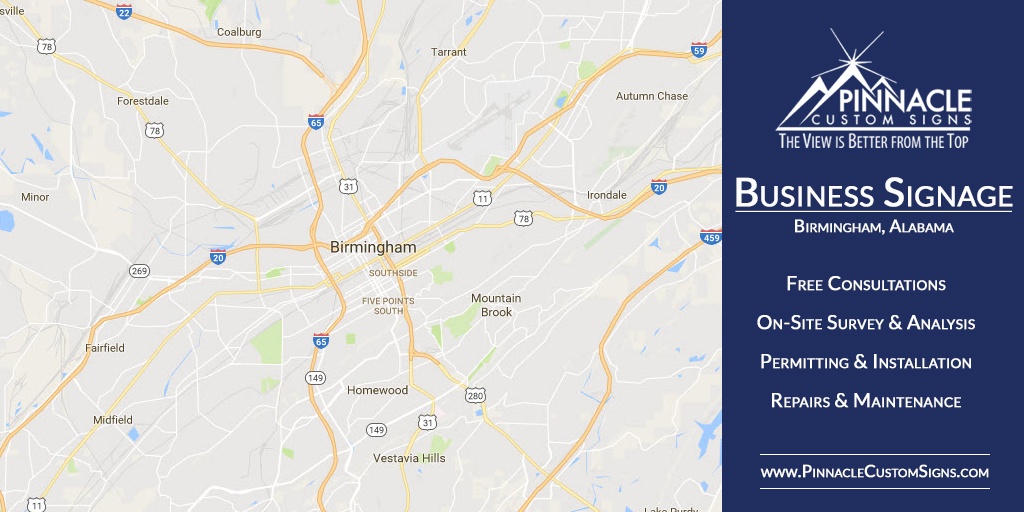 Related Products:
wall mounted signs
hanging signs
safety sign
awning signs
exterior signage
channel letters
canopy signs
illuminated signs
window decals
wall decals
wayfinding systems