Residential & Commercial Real Estate Signs
In real estate, everyone knows the old adage:   "Location! Location! Location!"   But, what can you do to draw people to that perfect location?   The answer is real estate signs.
Whether they are for commercial or residential properties, signs are important to drive traffic as well as to provide information about what is being sold and who is selling it.
We work with real estate companies to create a sign strategy that meets their budgets and needs as well as the local sign ordinances and rules.  Real estate signs come in all sizes and shapes, and we can provide you with the most eye-catching signs that will drive people right to your location.
Whether you're selling commercial property, a "fixer-upper", a high rise, an expensive home or leasing office or retail space, you need the right signs to help guide buyers to the right location. Contact us today to start building your signage strategy!
Real Estate Signage For Residential and Commercial Use
With our in-house team and capabilities, we can create many different types of commercial real estate signage including:
Large Real Estate Signs

4'x4′ signs
4'x8′ sign
custom dimension signs

Small Real Estate Signs

2'x4′ signs
32″x48″ signs
18″x24″ signs
and other custom dimensions

Sign Riders
Banner signs
A-Frame signs
V-Shaped signs
Post & Panel signs
Window graphics
Window signs
Fence signs
Sign panels and sign overlays
We have designed, fabricated, and installed numerous commercial signs throughout Georgia. If you are interested in custom signs, give us a call or fill out the form for a free quote.
FAQ Topics
Commercial Property Signs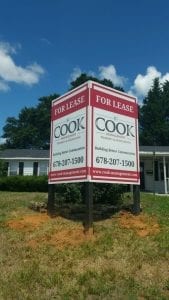 Commercial Property Signs are often used to identify large parcels of land or different types of developments. 
They are often very basic signs that display the seller's company name and logo and contact information for the selling agent.  Sometimes, they will also include additional information to lure the prospective buyer to come check things out – such as financing options, special deals like closeouts or the amount of property available.
Commercial Property signs are most commonly made using wooden posts with panel(s) suspended between them. Panels can be made from metal composites or, more commonly, treated wooden panels called MDO, or Medium Density Overlay panel.  MDO is made of plywood with a weather-resistant resin overlay bonded to the wood by heat and pressure.  Using the latest printing technology, we print directly onto these panels, using UV resistant inks to create vivid images that catch the attention of drivers as they pass the sign on the road.
Directional Signs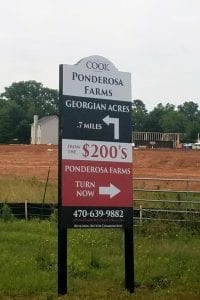 How do you point people to the property you are looking to sell?  Directional signs can be used on the sides of the roads leading to your location and can be as simple as corrugated yard signs or as large and noticeable as a post & panel sign similar to the commercial property signs described above and anything in between.  Whatever your budget, we can design the perfect directional signs to point people right to your property.
Yard Signs
The most common type of sign for real estate is those that you see in the yards of homes for sale or rent.  Or, maybe you've planned an Open House to draw interest in the property.  Depending on the material used to produce them, these often don't require a lot of your budget, as they are commonly made of corrugated plastic (or as we call it, coroplast) and can be temporary in nature.
Maybe you want to add some additional information to your For Sale sign such as special pricing, the lot number for the property, or listing information found on the web.  This can often be accomplished by adding one or more sign riders to the top and/or bottom of your yard sign.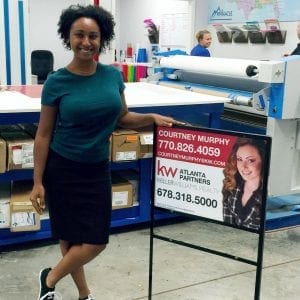 Are you marketing in an upscale neighborhood that has standards that must be followed for all real estate signs in the neighborhood?  We can often handle these requests as long as we have the brand standards that must be followed.
Real Estate Frames & Stakes
We can also provide a variety of real estate sign frames to meet your individual needs – from the very inexpensive H-stakes that slide into the grooves of a Coroplast (corrugated plastic) sign to the heavy duty metal signs that also can also accommodate your riders, depending on whether you are looking for a temporary or long-term solution.
If your sign is too big for one of these, then consider the many options for real estate sign posts, which can be made of multiple types of materials – wood, vinyl and aluminum – to name a few.  And, don't forget the decorative tops that can add a touch of class to the sign.
Other Types of Signs
Information Boxes provide potential customers with an around-the-clock way to get information about a community or specific lot. These boxes can be branded or not and come in standard and custom sizes.
Window graphics is another type of custom sign that can be used, especially in office buildings in high traffic areas, like downtown Atlanta. Window vinyl is a temporary sign that is easy to install and to remove.
Amenities Signage is usually found at the entrance to a residential development and highlights the benefits of the community. These signs can be small post and panel signs, yard signs, or other types of signs – all depending on the needs and branding of the development.
Lot signs are simple signs that designate which lots are which. This is particularly helpful in a development that is in the process of being built as it allows potential customers to identify which lot they may want.
Monument & Marquee signs are the most frequently used types of signs for identifying the location of neighborhoods and businesses. These signs are ideal for permanent location signage because of how customizable they are. The base and the sign face can be constructed out of a variety of materials. Combined with landscaping, there is no limit to the design of these signs.
Vehicle Graphics are a great way for real estate agents and other property management related companies to build brand recognition and advertise in the local communities. Vehicle graphics can be a "mobile billboard" where ever you go and can be applied to any type of vehicle – car, trucks, or vans.
Other signage considerations
When looking at any type of exterior sign for any use, there are several things that you should consider before settling on an option.
Sign lighting is important. Illuminated signage will stand out at all times of the day and be more clearly visible.
The material of the sign is important. Some materials are better suited than others for specific tasks. For signs that will need to stand the test of time and look good, alumacore or polymetal material is a great option as it's light weight, durable, and cost efficient.
Shorter-term signs can be made of corrugated plastic or plywood. These materials can have vinyl graphics applied and can be updated with vinyl graphics as needed.
Discuss your options with your sign company to determine what the best options are for you.
---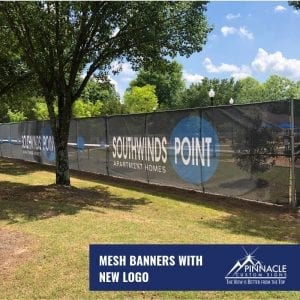 Southwinds Apartment Homes – Rebranding
Southwinds Point apartment homes was acquired by ZRS Management, LLC and underwent a rebranding to more closely match the style of the parent company. We came in to help with the project by creating a variety of signage types, including temporary signs and permanent signage.
One example of temporary signage is the mesh banners which were used a fence signs. They served the purpose of increasing awareness of the new brand immediately while also obscuring the remodeling efforts from the road. This created a cleaner transition for the apartments.
Examples of permanent signage includes updated directional signs, building numbers, and window graphics. All redesigned to match the new brand logo and colors.
This is just one example of our work with property management companies.
Cook Residential – The Preserve at Sterling on the Lake
When Cook Residential starting planning to develop a new section of The Preserve at Sterling on the Lake™, they needed to install lot signage on the lots they were going to develop.
The challenge was that the signs needed to meet strict community guidelines. These guidelines required specific logo incorporation and materials.
In all, we installed 40 post signs on different lots, all of which meet the guidelines of the community. If you have a signage project that is community guidelines that must be followed, we can help you.
Lincoln Property Company's Sign Vendor For Commercial Property Signage in Atlanta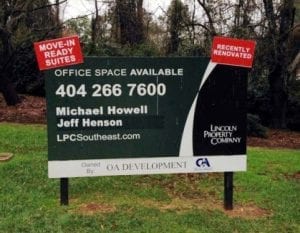 In 2013, we were contracted by Lincoln Property Company to create a standard pricing model for standard leasing and sales signs for their commercial properties. This included pricing for the moving of signs from one location to another, creating and installing new commercial real estate signs, creating and placing riders on signs, and changing out segments of existing sign frames.
This included pricing for the moving of signs from one location to another, creating and installing new commercial real estate signs, creating and placing riders on signs, and changing out segments of existing sign frames. This pricing became a standard across all of their projects for the Atlanta area.
Our first complete job with them was changing out a segment of a sign. It required us to perfectly match the colors of the existing sign to make sure the new name segment match the rest of the sign perfectly. Since then, we have work on a number of different projects for them in the Atlanta area.
Common Questions About Commercial Real Estate Signage
We've compiled some answers to the common questions that we find individuals asking about real estate signage. If you don't find an answer here, please give us a call or send us a message so we can get your questions answered.
Where can I find a sign company that does custom real estate signs near me?
Most commercial developments, whether it is an office building with multiple tenants or a new subdivision or apartments, will be located in an area that has a sign company within driving distance. We operate out of Buford, GA and have in-house capabilities that allow us to product custom signage in-house and then install that signage on location throughout the state and surrounding states.
To find a local sign company (like Pinnacle Custom Signs), we recommend doing some basic google searches and then calling up different companies to find the best fit for you. We'd love a chance to work with you, so give us a call so we can talk about your needs and if we are the best fit for you.
Are there real estate sign templates that I can use?
Many commercial real estate signs are basic signs designed to convey a message with some branding. They don't typically have all the bell and whistles that a permanent, long term sign will have. This means that designing a real estate sign will be fairly straight forward.
We are able to work with your branding guidelines to create a sign design that fits your needs and your budget.
What types of commercial real estate frames are there?
Real estate signs are typically not permanent signs but are also most often outdoor signs. Wood materials and composites are often the most common choice for building out the framework for large signs, like post and panel signs, and smaller signs that need a polished look but doesn't need to be expensive. Wood takes paint well and is fairly easy to remove when it's time.