What kinds of office signs do you need?
The interior signage for your office should reflect your company culture. For instance, if your business does financial dealings for other companies or people, you'll want a clean professional look that matches your branding. If your company creates custom graphics and printing material for events, then you'll want a fun, creative look that matches your branding.
So, what kinds of office signs do you need in a typical office environment?
You need signage for your reception area that identifies your location for visitors and directs individuals to where they need to go. This could mean a logo sign on the wall, some wall graphics, and a company directory sign.
The locations in your office need to be labeled appropriately. Keep in mind ADA compliance with these signs, but remember that you can add your own branding to restroom signs and room signs. Depending on how your office is setup, you may have offices for everyone or cubicles and offices. You can get custom nameplates for those locations. Perhaps, you will want to do a brushed metal nameplate for the offices and pvc plastic signs for the cubicles – there are many different options.
Throughout your office, you should consider additional signage, like wall graphics that have inspirational quotes or have the company mission/vision statements. Some unique signs may be laminated signs that you can use to track that week or month's sales or other goals.
What types of custom signs are used in reception areas?
Reception areas are often the first big impression that your customers will have of you. Making a good impression requires having a consistent, branded look that creates a welcoming environment. Some ways that signage can help do that is by having a custom wall logo and wall art.
Many businesses choose to have their logo displayed prominently in their lobby area. Depending on your desired look and budget, there are a couple of different ways to do that. The easiest is by using vinyl wall graphics. It's simple, clean, and cost-effective. If you ever have to leave, vinyl decals are often easy to remove from the wall without damage.
A more popular way is by using a dimensional sign with lighting. Dimensional signs can be made out of a variety of materials depending on the desired look. For instance, you can have a routed PVC or HDU that is painted to look like wood panels with a brushed metal logo on top. Or you could have real wood and metal. Lighting is an important factor to consider, particularly if you are going to be open early or late and have windows that let in natural light. A beautiful sign left in the shadows isn't nearly as effective as a properly lighted one. Lighting is also important to think about when designing the sign to ensure that the material won't cause unwanted glare.
Are your business signs working for you?
Signage is about more than looking good and catching the eye. It's about accomplishing goals. Signs should help your business engage, inform, and promote.
A good sign design is engaging; it catches the eye and makes you look twice. This may sound simple but it isn't. Many signs are beautiful but fail to accomplish anything. The sign has to do more than engage, it has to either inform the viewer of something, promote something, or do both.
A corporate identity sign is designed to engage and promote. Transforming your logo into a 3D sign that has the wow factor is the job of a graphic sign designer. If not done correctly, your sign will be overlooked.
Other lobby signage can help engage and inform visitors. Think of this lobby for C2 Education. They have their corporate identity sign but they also have other materials that help inform visitors of the services they provide and why they provide them.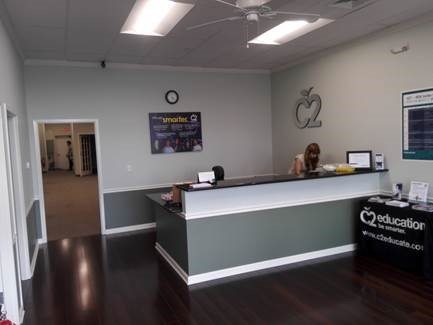 Get Help From Signage Experts!
When it comes time to get new custom signage for your business, give us a call. We can help you determine the best signage for your business. How?
We start by talking with you to get an understanding of what signage you want and then we come out to your location to do an in-person survey and analysis. This will give us a good understanding of what area we are working with and what may or may not be possible. From this, we are able to draw up an estimate for you.
Next, we gather the information we need to research the local building codes and guidelines about what kinds of signage you are allowed to have. After designing the new sign, we then manufacture it either in-house or through one of our national sign partners, followed installing it at your location.
Planning on moving in 3 years? We've got you covered. Our team can come out and move your sign from your old location to your new location. Need some repairs? Our team can come out and preform any repair work needed. We truly are a one-stop shop for all of your signage needs.
Additional Information: