Signs are an important part for your business. It shows your brand – your persona to your prospects. Pinnacle Custom Signs has the expertise to work with you to plan, construct, and put in place signs which provide what you need. Whether you are seeking signs for your establishment, exhibitions or cars or trucks, we work with you to create a customized signage solution.
If you are searching for a sign company in Atlanta, contact us at 678-714-8700 or contact us online.
What types of signs can we create?
Look at any mall and you'll quickly realize just how far the sign industry has advanced. Today, choices are more adjustable, creative and attainable than in the past, permitting any organization, with any budget, to invest in stunning, attention-grabbing signs.
We can create various types of signage and have detailed quite a few on our website. If you don't see a certain type of sign that you need, give us a call or fill out the form below with details; we work with you to produce a custom solution to fit your company needs.
Interior Building Signs
Branding your location is beneficial. Interior signage identifies your location, directs visitors to key places, and sets the tone for your location. Different kinds of interior signs include wayfinding signs, lobby signs, window and wall graphics, handicapped signage, and more.
ADA Signage
As of 2012, all buildings must have compliant ADA handicap signs. The American Disabilities Act is essentially a standard that all "places of public accommodation" must conform to; what this means is that your location needs to be 'designed and constructed in such a manner that [it] is readily accessible to and usable by individuals with disabilities"(reference).
This includes having wayfinding signs that include symbols of accessibility, pictograms, visual characters (correct contrast, letter size, etc), braille and raised letters and that are installed in the correct locations and at the correct height.
With ADA signs being relatively easy to acquire and install, don't risk getting a fine for not having ADA compliant signs.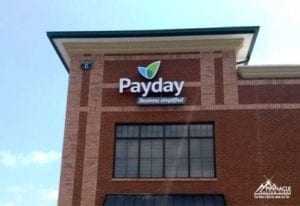 Building Signage
As a business owner, you invested time and energy to locate the right location for your business. Your work should not end with choosing the perfect location! Building signage can help clients locate your location easily. There are many options to pick from in terms of what kinds of signs to implement – do you want a back-lit sign? Do you need monument signs? And what will your sign look like?
Wall & Window Graphics
Doors, windows, and walls are frequently overlooked as locations where you could advertise your products and services or simply brighten the space. From wall murals to hours of operation, you can put just about anything on them.
Where to start when looking for new signage?
Start with speaking to a company with sign expertise. At Pinnacle Custom Signs, we always start with a free consultation get a clear idea of what you need and offer you the best estimate.
This involves considering what your goals are, what the purpose of the sign is, and what the budget is; performing an on-location survey and analysis to evaluate what conditions we need to take into consideration, such as the dimensions, the positioning, and additional needs; and crafting a custom signage solution calculation for you.
From design to researching building codes and other red-tape, to manufacturing and installing, we will work with you to help create the perfect sign for your property.
Related Projects
Wayfinding For The GSU Stadium
Georgia State University | Atlanta, GA
In 2017, Pinnacle Custom Signs was contacted by the Director of Emergency Management at Georgia State University to discuss updating the wayfinding signage for their new stadium.
Turner Field, formerly home of the Braves, was converted into the new Georgia State Stadium. With this rebuild/rebranding, new signage was required. Pinnacle Custom Signs has worked on a number of other sign projects with GSU in the past, so they were ideally positioned to help with this project.
After a 3-month process to create the emergency signage plans and map out the sign placement, we installed the signage at the facility. Due to the size of the project, it took several days to complete the installation. The emergency signage included signs that directed individuals to the nearest emergency exits and safe exits, and evacuation maps. Additional wayfinding signs included signs directing people to the amenities, ie. concessions, restrooms, etc.
Mulberry Estates
Cook Residential | Winder, GA
We worked with Cook Residential to develop a sign system for their new subdivision begin constructed in Winder, GA. The sign system included rebranding to increase visibility and improve readability, scouting out locations for sign placement, producing and installing the new signage.
The sign system used a variety of signage types, including post and panel signs, lot signs, and others.