You spent time and effort finding and selecting the right location for your business. Don't let that go to waste! Your location needs to be visible and well branded so that customer can find you and so that you can build brand awareness.
When you are looking for the right signage for your location, you need to consider a variety of factors including the sign design, the local ordinances, the cost, etc. We work with local and national business to design and manufacture signage that meets their needs and budgets. Contact us today to get started with a free evaluation of your signage needs.
Signage for Buildings
Mounted signs (also known as exterior building signs) are placed on the exterior of your building. Every location is different, so it is important to consider a variety of factors including existing building structures (such as awnings/canopies), building rules and guidelines, your ideal sign design, and more. Here are a few types of signs that are popular.
Dimensional Signs
Channel letter signs are a very popular type of dimensional signage. Many businesses choose channel letters because it is very easy to customize the font used and because of how clean and crisp it is. It uses internal lighting to make each element stand out. Channel lettering is usually mounted to the external face of a building.
Sign Cabinets
Also called sign boxes, these signs use an internal light source to shine through the sign face, revealing the graphics printed on it. Typically used as street-side signage, these signs can be mounted to your building or mounted apart from your building, on a pole or masonry base.
An added benefit of sign boxes is how potentially easy it is to change out the graphic for a new graphics. You can also get double the signage by having a double-sided box.
Canopy Signs
Also called awning signs, this type of sign uses lighting to highlight lettering and/or graphics painted or screen printed onto an awning. It is a good way to make use of an existing building feature.
Awnings are typically made out of a heavy canvas which graphics can be printed onto. It can be illuminated with a backlit that shines up through the fabric, revealing the graphic, or through an overhead light that shines down onto the surface. Backlit is a popular option because it serves multiple functions – providing light for the sign and the area underneath the awning.
Different Kinds of Lighting for Signs
A well lite sign is important, even if your business is only open 9 to 5. Keeping your sign lite during the night can help build recognition as people drive by. For those drivers that do not convert immediately into a sale, your business name and location are reinforced on every pass.
Depending on the sign, there are a number of different ways to sign a sign. Here are a few.
Backlit Lighting
This type of lighting involves placing the light source behind the sign. This creates a halo effect on some signs and, like we mentioned above, shines through the sign material. Backlighting can also be used with another type of lighting for greater effect.
Cove Lighting
Simply put, it's a light source that illuminates the front of a sign. Typically, it fits into an alcove or groove; this type of lighting can also be used to create unique lighting aside form a sign.
Face Lighting
While Cove lighting illuminates the front of a sign, face lighting is when the light source is embedded within the sign, like with channel letters and sign cabinets. The material used to create the sign face usually determines the color of the sign, as the light source is most likely a white LED.
Looking for A Sign Company?
Pinnacle Custom Signs is a sign company that works with national and local businesses to create custom signage solutions. We work with business from development to production to permitting and installation. If you are looking for building signage in Atlanta, contact us to learn more about what we have to offer.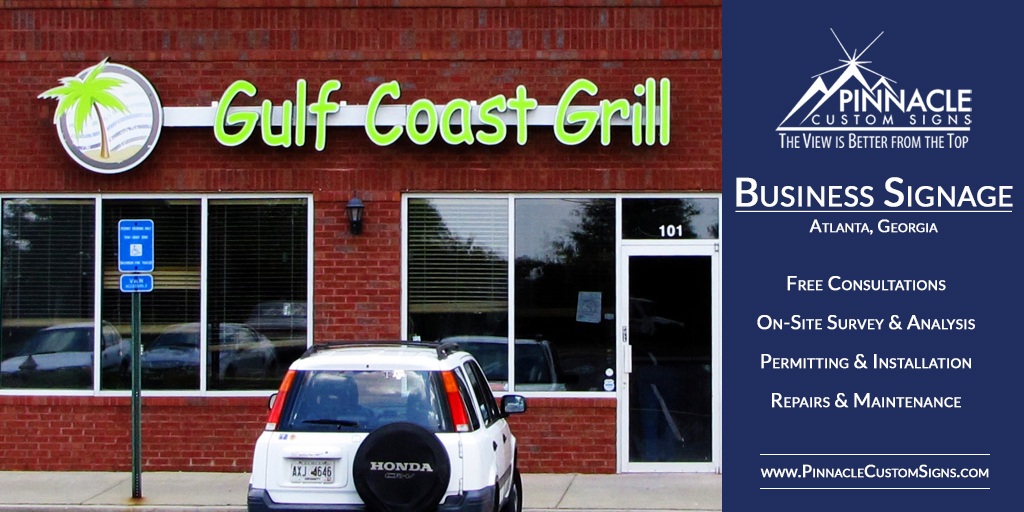 Related Projects
WorkOut Anytime Fitness – New Franchise Location
WorkOut Anytime Fitness | Braselton, GA
Randy Clevenger, owner of two franchise locations of WorkOut Anytime Fitness, enlisted our help in creating a channel letter sign for a new location. The project required us to work within the City of Braselton's sign ordinances and within the sign restrictions set by the shopping center's owner. While in development and production, we also assisted them by creating a "coming soon" banner and added their logo to the shopping center's marquee signs.
McKendree Church Building & Directional Signs
McKendree United Methodist Church | Lawrenceville, GA
Over the past 100 years, McKendree Church has grown to include a number of new buildings in additional to the original sanctuary. To make it easier for guests and newcomers, they asked us to assist them in creating a wayfinding system for their church campus, including directional signs and building identification signs.
Related Products:
exterior signage
wall mounted signs
window decals
safety sign
illuminated signs
canopy signs
awning graphics
channel letters
hanging signs