Signage For Offices In Birmingham, AL
What kinds of businesses benefit from lobby signs?
Just about any business can benefit from having a lobby sign but especially businesses with an office environment. This includes doctors, lawyers, and other professional type businesses that have a separate reception area for clients and customers. Business in a more retail environment can still use lobby signs but not to the same effect. Having a reception area helps a business manage the flow of people and gives them a place to focus on how they welcome clients and customers. By optimizing this first experience with a business, they get a head start on a good relationship with the individuals.
Why is it important to have good business signs in your lobby?
Because the lobby area is often the first in-person experience that a customer or client has with your business, it is important to make a good impression. Good signage helps individuals identify that they are at the right location and helps them get a feel for the business itself. Your lobby area should be a representation of your company culture. The décor, arrangement, lighting, and seating all come together to form a singular expression. Small details can mean the difference between an old, professional feel and a new professional feel. For instance, a typical law firm has a lobby sign that is very traditional – clean fonts, similar wording, similar icons, similar colors. An older professional design might be to use traditional materials, like wood, with a serif font (ie. Times New Roman) with basic wording (Firm name + type of law). A newer professional design would use different materials, like brushed metal or acrylic, to create a clean, bright, modern feel with a more individualized font or a sans serif font. Both types of styles work very well for a law firm, but each one says something different about the firm. This is why it's important to design a sign that matches your actual company culture and brand.
What types of custom signage can be used?
The most typical sign that you'll see in any lobby is a logo sign. This is usually a 3D representation of the business' logo. Other signage may also be used, like wall and window graphics. A corporate identity sign is the three-dimensional logo sign that most businesses have in their lobby. Taking a two-dimensional logo and turning it into a three-dimensional sign can be a challenge but it also allows a business to express itself more fully.
The sign can be created using a variety of different materials and production methods, depending on the desired outcome. A sign that has a wood grain look can be made using real wood or a composite material to have the appearance of wood. Many signs are now made using acrylic and vinyl or HDU. HDU is a type of high density foam that is strong, light, and very cost-effective. Many signs incorporate this material into their design. Acrylic and vinyl are more commonly used to create a polished look, like with this lobby sign for Workout Anytime; it uses a frosted and solid color vinyl applied to acrylic and mounted using stand offs.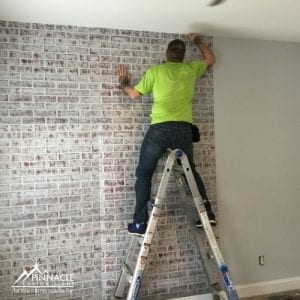 Wall graphics can also be used for décor purposes or for branding purposes. This full wall graphic gives the appearance of brick. More frequently, wall decals are used to add wording, like the company mission and/or vision statements. Window graphics can also be used if there are windows in the lobby. Decals can be used on a glass door to add the logo, name, and hours of operation. Windows facing the outside can have graphics advertising the business or a simple design to add a bit of privacy to the interior and managing the amount of light that comes in. Interior windows and doors can have graphics applied to them to add to the branding and décor and to provide privacy and wayfinding.
When should I get new signs for my business?
You should consider updating or getting new signage for your office after a branding update or when moving to a new location. These are the two most frequent reasons that business owners choose to update their signage.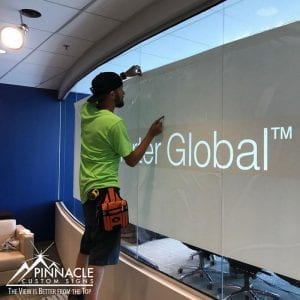 Branding updates and moves can come every 5-10 years, depending on the industry and events within the company. Not all updates require an updated sign, but some do. When this happens, you should evaluate whether you can modify your existing sign or if you need a new one. One of our clients, Charter Global, experienced this first hand. Starting in 2013, we helped them through several branding updates and business moves. The most recent project in 2017 required that the two existing lobby signs be relocated to the new office location. In addition, the large conference room window faced into the lobby; to add privacy and enable the glass to be used as a white board, we installed opaque vinyl over the majority of the window with their logo in the center.