Trade Show & Expo Signage
Building trade-show and expo display that help you carrying the message through graphics and words can often be on an event by event basis, but they all start with one key focal point. Most companies use booth backdrops or pop up displays that can be designed to fit the company identity. The 3 biggest questions on deciding the best way to market your company on the move is the old favorites – Where, when, and who?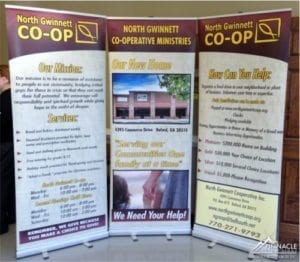 Where is the event?
Is the event being held inside or outside? Is the event is a large galleria or in a small gym? Will you be standing on the side of a road? Knowing the answers to all of these questions is key when picking out the best way to build your company's image at an event.
When is the event?
If you are participating in an outdoor event in the spring or late summer, it is a good idea to consider having a tent or weighted displays to prevent things such as sunburn, wind displacement, and rain. If the event is indoor during the summer, then you might want to carry as light of a load as possible. So light weight pop ups may be the most ideal solution.
Who is your audience?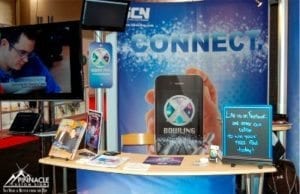 Are you speaking to an audience of new clients or representing your industry with like-minded professionals? Your message may be different depending on your audience. You may be able to convey your message with pop-up displays instead of the full trade-show booth experience. Or maybe you want to show off just how awesome you are among your colleagues by pulling out all the stops.
Expo Booth Options
Retractable Banners – Come in multiple forms and can be designed to be placed side by side to show various products or services your companies offer.
Booth Backdrops – These displays range from having flat, curved and s-shaped features to really allow you to showcase products through coordinating tables and lights.
Stand-Up Banners – These banners are simply banner images that allow you to showcase them at your booth without having to tie them up.
Pop-up Displays- When you need a lightweight backdrop for a booth but don't want to put on a full show, these are a feasible option that can act as the backdrop for your presentation.

Table Top Displays – These are smaller additions to your presentation and can be a nice additional feature on your table that highlights your focus message to the audience.
Linear Displays – Linear displays include lightweight steel or framing that allow you to include TV displays, lighting, literature display, or free standing counters to complete your look.
Logo-ed Table Covers and runners- Branded table clothes and runners help complete the overall appearance and look for your business.
If you need help finding the right set of options for your business, give us a call or check out our options now including a link to the exhibitor's handbook.   Our site showcases many different options to help you find the right solution for your business.  We love making you stand out among the crowd!
Trade Show Displays: How to Turn a Professional Display into a Moneymaker
Trade shows, or trade fairs, are a gathering of a variety of business of the same industry so that each business can display their abilities, new products and their business as a whole to competitors, professional business representatives and the press. Despite the lack of public access at most, these events are great means to increase profit.
Trade shows provide a chance to:
View trends within the specific industry.
Observe other competitors in action.
Develop connections.
Receive press notice.
Bring in new customers.
Since trade shows are so abundant with opportunities, it is key to look professional. Looking professional at these events is fairly easy as long as the business is prepared well in advanced and has a display best for its needs.
Cost VS. Output
Of course, this can only be achieved to its full potential if the display is spectacular, notable, and a true image of the business it represents and their future plans.   When it comes to the display itself there are a variety of options varying in prices and complexity.
The options available are (Ranging from the simpler displays to the more complex):
Tabletop displays
Logoed tabletop covers
Retractable Banner
Pop-up Displays
Booth Back Drops
Island Displays
While the most complex is easily the most eye-catching, it is easily the most expensive, and most businesses are ready to break the bank. All displays hold their pros and cons, but the key is having a quality sign company or trade show display service to work with the money available to create the best display possible.
Don't DO the Work; Display it
Some components to this that make a quality display are:
Organization
A layout with a purpose
Clear, precise information
Interactive features
What this means for a display is that you need to have a clear path to follow. Don't have too many components all screaming for attention. Allow each section of interest its own space while also leading the attendant to the next point. A layout with a purpose simply means have a specific theme in mind with the display. Don't override the attendant with too much information. Focus say on a new, innovative product or the process the makes the business so successful. The company commissioned to create the display will usually be able to help with this part. When having a presentation, whether written or spoken, one should always be to the point and as un-convoluted as possible. And finally, interact with the attendants. Get names, or cards; discuss the business, let them have a hands on experience, if possible. Do this, with the addition of an appealing, attention-grabbing display, and trade shows will be nothing but profit.
Checkout this Project We Did!
A Truck Wrap that is a Trade Show Display
It isn't often that you see a truck wrap, or other type of vehicle wrap, at a trade show.  Unless, of course, you are at a sign industry trade show, where the top vendors are displaying their products used to do vehicle wraps.  However, we were recently presented with an opportunity by Dimensional Design, to wrap a truck that will be used by Mistubishi Electric at shows to demonstrate the abilities of their heating and air products.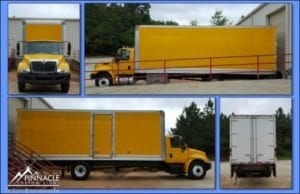 Dimensional Design is an industrial design company that is located in Duluth, GA and is a one-of-a-kind firm.  Unlike other industrial design companies, they have integrated an in-house manufacturing center that works with the design team to bring their creative ideas to life.
This combination allows them to transition their projects from prototype to implementation in an accurate and timely manner.  Their stated goal is "to get inside our client's marketing mind and find out what makes their company tick and then to ultimately relay that message to their customers.  Creatively and reliably."
At the end of July, we were contacted by Alan Williams, Project Manager, for a quote to wrap a 26 foot box/moving truck.  Don quickly turned the quote around so fast, that Alan mentioned that it was the fastest quote he's ever received.  The truck that they were looking to wrap had previously been a Penske moving truck, famous for their bright yellow color.  In this case, they wanted the entire truck wrapped.
After the price had been determined, Alan next asked us if we could also wrap some panels that we later found out would go inside the box.  This was turning out to be a pretty interesting project, since we were now wrapping the truck both inside and out.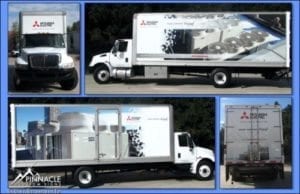 Truck Wrap Design Challenges
It took quite a while before the truck was available for us to begin the project.  In the meantime, we worked with Dimensional Design, who in turn worked with their customer, Mitsubishi Electric to create the artwork.  There were several iterations of the design, due primarily to the resolution and sizing of the images that were provided by the corporate team at Mitsubishi.  This was true of both the inside panels and the exterior of the box.
Another issue that caused another iteration of design was the image that was used for one of the sides of the truck due to the placement of a door that was found on the passenger side.  The concern was that the logo on the artwork was going to interfere with the logo placement.  There was a similar concern for the back of the truck.
Although the design work done by Dimensional Design was top quality, car and truck wrap designers are very proficient in identifying when the contours or features of a vehicle will interfere with key design elements.  Once this was identified, the design team corrected the issue and the final design was approved.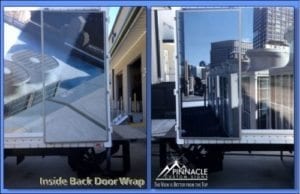 Soon after we received the truck at our facility, production began.  We printed all the panels for the outside wrap, as well as the panels that would be installed inside the truck by Dimensional Design.  While our subcontractor, New Signs, installed the wrap, our production team wrapped the inside panels.
When the truck was picked up, we asked the customer why they were installing panels inside the truck, since it was such an unusual request.  We were told that they were planning to put an HVAC system into the truck, enclosing it with the interior panels, which would also be used for shelving and display items.  They were going to then take the truck to places like Texas during the summer, and to colder climates for the winter, to demonstrate how well the Mitsubishi product worked against the elements.
Shortly after the project was completed, we were asked to actually wrap the insides of the back doors, since the panels did not provide the effect they were after when it was designed.  We then went to the customer's site and wrapped the two doors, making sure to match the graphic on the sides of the truck when the doors were fully opened.
So, while this project came to us as a "bit out of the ordinary" wrap project, you can see that this wrap will showcase the customer's product as it travels from show to show.  Do you have an unusual wrap project in mind?  Give us a call and let us see if we can help make that idea a reality.