Promotional Products Help Customers to Remember You
Trade shows remain popular in marketing tactics in growing your business. The secret is to been seen and heard at these conventions. Trade shows build your brand, generate sales leads, allow you to see what the competition is up to, stay up on trends and grant you valuable one on one time with the most buyers in the shortest time, helping you toughen old relationships and build new ones.
At a trade show you want to make your product, your logo a hero in the consumer's eye. Pinnacle Custom Signs can design custom graphics for your promotional products that will an emphasis of a hero and help you stand above your competition at a convention. Trade shows are fantastic opportunities for businesses to gain exposure and show their products to a wide array of potential customers. However, in a large number of booths, your display might get overlooked if it's too boring. To make the most of a trade show, your company's booth needs to stand out and seem interesting to the crowd.
Brand promotion through promotional products, booth signage and YOUR MESSAGE is a crucial tool for customer acquisition and engagement that concludes in a long term relationship. Many businesses waste precious effort and resources because they didn't plan their business advertising properly before an event.
Planning is Crucial… and we can help.
Here are just some of the things we can help you plan and implement for a successful convention or trade show event
Event Preshow – It's estimated that 81% of trade show attendees have buying authority. Reach out to them before the event with brochures, mailers, and email notifications.
At the event – Draw attention with back drop, table covers, and a variety of banners.
Giveaways – Have quality giveaways and have a couple of high end promotional merchandise to get people to register for the prize.
After the show – We can develop the information that was promised at the event with eye catching graphics along with a promotional prize for that extra touch. If you complete this final step you are ahead of 80% of the other paid attendees.
We also recommend sending a promotional item to those you know couldn't go to the trade show.
Small business owners must be at the top of their games to ensure that they do not make any mistakes when preparing for a trade show. Small gaffes like having inadequate amounts of unique promotional products and missing key deadlines can lead to large headaches.
Let us help you prepare for your next big event. Give us a call or contact us online to get started.
Promotional Products Help Customers to Remember You
In order for your promotional products to work for you is to choose items that are used daily in normal activities. This decade USB drives have become a number one seller. Everyone can use a USB drive.
The important thing is to have them remember you and what they learned about you or your product while visiting your booth.
Did you know that almost 83% of people can recall the company and brand on their promotional product?
Promotional products promote your brand after the show is over. This is the reason, you should always have plenty of knickknacks handy when meeting people at your next show.
Being a full service sign company, we already have your logo and your contact information.
Why not let us help you get the promotional products that will allow prospects and customers to remember you after the show is over?
No matter what you're looking for, we can help you find that perfect promotional item for your next show or event.
We have many categories and items to choose from.  Click here to enter our promotional items store and browse until you find that just-right giveaway.
When you find what you're looking for, add the item(s) to the cart, place your order and we can get started.
We have many categories and items to choose from.  Click here to enter our promotional items store and browse until you find that just-right giveaway.
When you find what you're looking for, add the item(s) to the cart, place your order and we can get started.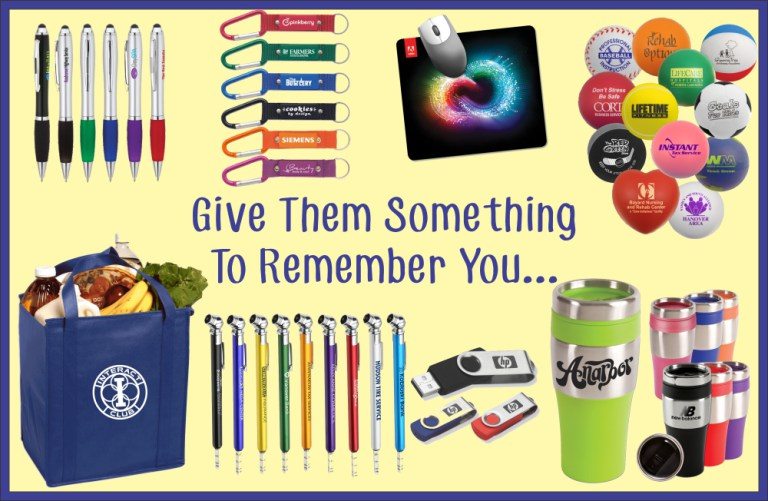 Trade Show Giveaways:
Koozie
Key Chains
Tumblers
Stylus Pens
Water Bottles
Pens
Key Chains
Mugs
Clothing With Logo
Trade Show Supplies & Giveaways
Note Pads
Notebooks
Pens
Sticky Notes
Traditional banners are also great for special promotions, advertising new products or best sellers in and around your booth. Create your message and develop your graphics, pre-show promotion, literature and show directory advertising around that message.
Here are a few mistakes that can hurt small business owners
Missed deadlines
A few missed deadlines will hit small business owners where it hurts the most – their bank accounts. Many organizations and vendors allow companies to submit late paperwork and buy necessary equipment at increased prices because of the short notice. The expenses can quickly.
According to a recent report from the Trade Show Institute, missed deadlines can cost an entrepreneur upward of $2,000 in late fees. Most independent business owners do not have the assets to cover that amount without hurting their long-term prospects.
Entrepreneurs must keep their deadlines in mind and avoid missing any important dates. Additionally, the early bird gets the worm when it comes to trade shows – many organizers offer discounts to businesses that purchase equipment or rent services in advance.
No reminders
Trade shows are hectic events for presenters and consumers. The best promotional items are the ones that help consumers enjoy the trade-show experience. Gifts like branded tote bags and water bottles help people address basic needs during the chaotic events. Attendees are bombarded with dozens of advertisements and sales pitches throughout the day, which makes it difficult for them to remember all the companies. Small business owners should always distribute reminders like promotional marketing products to avoid being forgotten after the show.
Although it maybe a little more expensive to do purchase functional presents that potential customers may use in everyday activities it is well worth because they will appreciate it more.
Alternatively, small business owners can use items that would be more useful at home or in the office than at a trade show. Promotional magnets, wall calendars, pens and flash drives are great prizes that every consumer can regularly use.
No Pre-Event Advertising
Most of the attention that businesses attract during trade shows is from passersby. Consumers stop at booths with bright signs and other decorations including employee attire, but relying on interest from random attendees is a faulty strategy. Some customers have clear strategies when they attend the events and do not deviate from their objectives – they are there to visit certain businesses and won't give much consideration to other organizations. To ensure that prospective clients want to see their displays, entrepreneurs must advertise before the trade shows.
Pinnacle Custom Signs recommends using email and direct mail marketing to generate excitement among leads for the event. Both tactics allow small business owners to target attendees so that they are not wasting resources on other consumers.
After the event be sure to send them the promised information as well as a magnet or a calendar to build a rapport. When potential clients visit the business' booth, employees can remind people about the promotional items to open lines of communication and make a sale.