Car, Truck, Boat – ANY Vehicle Wrap We Can Do!
Advertise your business while you are stuck in traffic by wrapping it in an eye-catching custom design that draws attention wherever you go!
Living in Metro-Atlanta, we all know how busy our streets are from day to day!
Your first impression is the most important impression you will ever make. We take pride in the vehicle wraps we do and we can custom wrap any car, truck, van or any work utility automobile.
The feed back we get from our clients is priceless! Enhance your company's image with vehicle wraps on your entire fleet.
Have you been thinking about a vehicle wrap but can't seem to take the plunge? Here are four reasons why these custom graphics are the way to go:
When compared to TV, radio and print, vehicle wraps are most cost effective means of advertising. Recent research looks at the cost of advertising as expressed in "number of impressions," in other words, how many people have seen or heard the ad. You can't miss a decorated vehicle, so this advertising method not only drives awareness to your business, but it's cost effective too.
You have the option of a full vehicle wrap or a partial vehicle wrap. When making the best decisions for your business, of course you want options. In addition to creating a completely customizable design, choose what type of vehicle wrap is perfect for your car and budget.
These wraps use vibrant colors and catchy graphics to really make your car get noticed. If you want your business or brand to truly stand out to the masses, these wraps make it really easy to do so. Create a design that is tailored to your business or brand and show it off hundreds of cars stuck in traffic.
Car wraps are the up-and-coming and successful! This method of advertising is increasingly growing in popularity, but it's not found on every street corner. Those who have wrapped their vehicles have found success from the heightened awareness of their business. Wouldn't you love passersby gawking in amazement as your branded vehicle drives by?
If you'd like for us to contact you about a car wrap, please complete the form below and click the send button. Or, you can call (678) 714-8700 and let us see how we can help you with your custom wrap for your car.
Vehicle Wraps Gallery
Make your Car a Moving Billboard for your Business!
Car Wraps are becoming increasingly popular and are one of the most cost-effective means for advertising your business as you travel the busy roads around town. We offer a full line of car and vehicle graphics to fit whatever budget you might have. In this gallery, you will see examples of car window graphics, partial wraps and full wraps. Our team of professionals can help you create a great look to get your business noticed as you ride around our city streets. Please feel free to browse around.
5 Questions Every Business Should Consider – Vehicle Graphics
Vehicle Wraps are more than full custom graphics on a car, van, service vehicle or boat — they are a part of a company's marketing strategy. A vehicle wrap can actually have the biggest return on investment of any advertising strategy when properly planned and carried out by the business.
What does the company get out of this type of ad strategy? 
A business can generate A LOT of exposure through custom vehicle wraps. Auto wraps tend to be colorful, eye-catching, and hard to ignore. What that basically means is that they attract lots of attention.  In addition, it's a form of advertising with a captive audience.  What that means for your advertising strategy boils down to people who are stuck in traffic can't avoid seeing the wrapped car alongside them.
What kind of exposure does a vehicle wrap receive?
The amount of traffic your vehicle wrap receives largely depends on how frequently a business travels or how far they travel.  If your company vehicles frequent in high-traffic, urban areas then there is a chance that your vehicle wrap graphics are getting seen more frequently than any billboard, TV commercial, magazine ad, or online banner. Rather than a static billboard or sign, marketing on a vehicle is seen by people literally throughout a community. The word is spread from one side of town to the other.
If your company vehicles are stuck in rush-hour traffic every day, it is still worth considering the kind of traffic routes they do encounter.  For instance,  a floating refueling business on the neighborhood lake may want to  consider the amount of boaters and type of boater that would see you on the lake on any given weekend.  Wrap your company boat with a design that speaks to that target audience as you travel around.   Other examples include mobile tutoring services in a college town, grocery delivery services in a high retirement area, or just simply your local hardware store.  Would you open the door for an unmarked van delivering an appliance?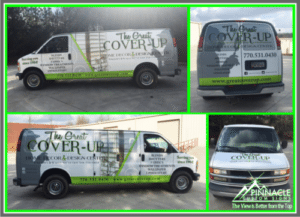 How much will it cost my company?
Quite honestly it may save your company money in the long run.  Most advertising efforts in high traffic or high visibility areas are monthly marketing expenditures on a company budget.  Many large corporations have spent the last few years cutting back on the amount they spend for TV commercials, print marketing, and even some digital promotions in order to find more cost-effective solutions.  A onetime cost to wrap a company vehicle may be much less expensive allocated over 12 months than the current budgeted price for billboards and other stationary marketing.  When a business considers vehicle wraps as an advertising strategy and not a new paint job, it can pay off in the company's bottom line.
What if my company is small?
The size of the company now is not as important as the size you want the company to be a year from now.  Vehicle advertising works — a vehicle wrapped with information and display advertising gets noticed by motorists and pedestrians alike. Those who pass a car that has a corporate logo and contact info on it can't help but notice and take in the information. In many instances, this type of marketing serves as a reminder to people that they need to take action and call a plumber, hire a landscaper or paint a room in their house.
Wrapping a vehicle in a colorful and impactful display advertisement gets the word out all over town. Companies that use this strategy on multiple vehicles wrapped in display advertisements can give the impression that a business is large and growing. People will think that are seeing a company's advertisements all over town — which, in fact, they are. This is an impactful and cost-effective way to promote a business and market particular services — whether a caterer, a daycare or a dental practice.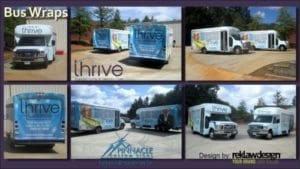 What if I only have one vehicle? 
Ask your husband, best friend, or employees if they would be willing for you to co-brand their vehicle.  You could allocate a certain "gas allowance" a month for their consideration.  Once you business grows beyond your current situation, consult your accountant to see if purchasing a vehicle for the business is the next right step.  They you can wrap both personal and company vehicles to increase your exposure.
Want to take the next step?
We would love to help you determine if a vehicle wrap is the best fit for your advertising strategy.   Our team can help you determine price and custom design for your company vehicle no matter how large or small.  Give us a call for a free estimate today. 
Turning the Process into a Product | Trailer Wrap for Zurn Plumbing
We recently did a trailer wrap for Matt Zurn and his Plumbing company Zurn Plumbing.  However, the process to the end result was not as simple as print and go!  Matt Zurn knew he needed to enhance the look of his brand by adding mobile advertising to the side of his plumbing trailer and set out to figure out a way to make that happen.
One Job with Many Companies
Matt reach out to Perma-Liner Industries who is a vendor for his company.  Perma-Liner provides Zurn plumbing with the ability to provide trench-less pipe-lining systems made in the USA to his customers. Perma-LinerTM (PLI) is the leading manufacturer and supplier of trench-less pipeline rehabilitation equipment, cipp products & materials in North America. Since 1999, PLI has developed systems to rehabilitate existing sewer systems without excavation.  So they were honored to help Matt sponsor this trailer and make sure it conveyed his ability to help his clients with their technology.
The next step was for Matt to reach out to his marketing firm, Mighty 8th Media in Buford.  Mighty 8th has been a referral source for us for years in helping their clients create great marketing for outdoor signs, vehicle wraps, and graphics.  So Mighty 8th got to work developing the creative for the new trailer design.  Once the design was approved, Pinnacle was the next step in the process.
Turning the Process into a Product
Pinnacle used the design provided by Mighty 8th to create a trailer wrap that branded Zurn's website and PPLAtanta.com.  The design team also utilized the space to provide a good look at traditional piping and the difference in a Perma-liner product that Zurn Plumbing uses for its clients.
So if you are ever concerned about their being to many hands in the pot, don't hesitate to ask us to join.  We work with many different vendors and referral partners across metro Atlanta to make sure that all aspects of the transaction succeed.
There is no need to worry if you don't have a marketing design team at your disposal.  We have an in house designer who works with most of our clients to give them the same finished look as our friend Matt Zurn.
If you'd like for us to contact you about a car wrap, please complete the form below and click the send button. Or, you can call (678) 714-8700 and let us see how we can help you with your custom wrap for your car.