Truck Graphics
Metro-Atlanta, advertise your brand as your fleet drives from job to job, or sits in traffic!
Work vehicles today don't look like they used to…. Gone are the days when businesses engaged plain white trucks and vans. Now, we see a wide range of graphics used to draw potential customers to a company's brand.
When you have a fleet of service vehicles that are always on the go, the graphics on those vehicles will get your business noticed. As always, you have plenty of options when designing graphics for your fleet.
Cut Vinyl Lettering – Essential information such as company name, phone number and web address, either with or without your logo, is applied to the vehicle.
Full Wrap – Colorful, attention-grabbing graphic designs are applied to the entire surface of the car that gets your business noticed as your fleets drive the busy streets.
Partial Wrap – Something "in between"… where we strategically apply graphics to the vehicle, only partially covering it, for a more cost-effective solution.
Also, don't forget the trailers that are used to haul your equipment from site to site can also be used to get your business noticed. These can also be covered using the methods described above and will help in getting your business spotted, especially when being towed by a truck carrying the same message. Whatever your need, our team will consult with you to get your truck, van or trailer noticed. You can also check out our Photo Gallery of trucks, vans & trailer graphics that we've done to get your creative juices flowing.
Introduce Us to Global Electronic Services
Shortly after we moved into our new facility, we had a visit from Margie Petzold from Global Electronic Services, who saw our sign out front. Global Electronic Services provides industrial electronic repair and surplus solutions for all models and manufacturers of industrial electronics, motors and hydraulics. Their headquarters are located in four buildings at the back of the industrial complex where we relocated last winter.
Margie mentioned that Global had a need for a lot of different types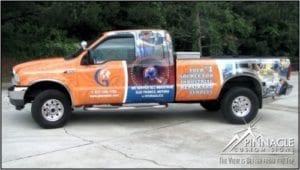 of signage, and while they had a company that they had been working with, they thought that with us being close to their facilities, they wanted to try using our services.
The first project on the plate was for a Ford F-350 truck wrap. The design phase for this project took quite a bit of time before it was finalized. It featured several photos showing examples of their unique equipment and services such as motor rewinding and balancing services.
Because the photos need to be enlarged quite a bit, it took some time to get the photos which had high enough resolution to provide high quality images showing what they wanted their potential customers to see. The design also included a listing of all the different types of motors & electronics they can service.
Predominantly featured in the design was their corporate colors of orange and blue – two complementary colors which are certain to draw the attention of other motorists. The orange sections had their logo in a "ghosted fashion" using a step and repeat pattern, building their brand recognition.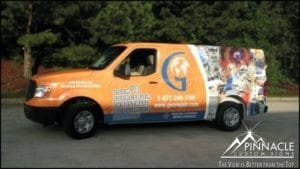 Shortly after that, we were asked to wrap a Nissan NV commercial cargo van. As many fleet wraps do, this van wrap had many of the same design features as the F-350. However, since this was a much larger vehicle, there was more "real estate" for additional graphics.
A unique feature of this vehicle wrap, was that they wanted the entire roof wrapped, something that isn't typically done on large vehicles unless they are driven near tall buildings where the roof will be seen often. Since we were wrapping the roof, and the rest of the graphics were quite busy, the design was kept simple and just featured their logo, a large letter "G" with a globe, on the custom orange background.
Since completing the two vehicle wraps, we have worked with Global on a few other projects, all of which keep a consistent look to their brand. Being a full-service sign company, we are able to fill many different sign needs, not just vehicle graphics.
Vehicle Graphics Complete the Look for a Local Restaurant
Mark and Amy over at Gulf Coast Grill in Suwanee are getting ready to celebrate their first year in business.  Last year, we had the pleasure of doing all of the signage for their new restaurant including channel letters on their building and a wall mural inside the restaurant that gives the feeling you're dining at the beach.  It was a fun project that we get to enjoy whenever we dine there.  We have had the opportunity to entertain many a client at their establishment.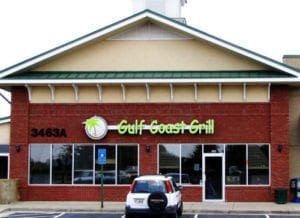 In July, Mark called us and told us he just bought a new pick-up truck and wanted to get graphics put on it so that he can advertise the restaurant while driving around town.  We  walked through several options with him as there is a broad range of prices for doing vehicle graphics.  For those unfamiliar with the different options, here is a description of each:
First, the simplest is the application of simple graphics and text such as logos, company name, phone number and possibly a tagline.  This is the lowest cost option and is often seen on service vehicles from companies such as plumbers, heating & air companies, etc.
At the opposite end of the spectrum, is a full vehicle wrap, which consists of (usually flashy) graphics that draw your attention to the vehicle while still providing the appropriate contact information.  In a full wrap, the graphics cover the entire surface of the vehicle, following every curve and bend.  The cost for these types of wraps vary by the size as well as the complexity of the vehicle body.  Just because it is a small car, it doesn't necessarily mean the price tag is lower.  If there are complex curves to the car, it makes doing the job more difficult.
Between these two options above, is what we call a partial wrap.  With this type of wrap, only a portion of the vehicle is covered with vinyl graphics, leaving the remainder of the vehicle uncovered (or sometimes with cut vinyl lettering giving important contact information).  So, for example, on a pickup truck, a partial wrap might have the truck bed completely covered with graphics and having cut vinyl lettering on the cab with some additional information.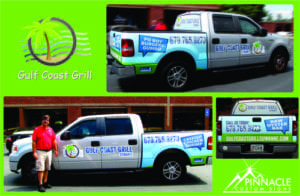 We spent some time consulting with Mark on the look he wanted, and more importantly, his budget.  When we learned how much he wanted to spend, we designed a partial wrap of the truck that would make it stand out on the road and while in the parking lot at their restaurant.
Once again, we used Reklaw Design for the layout, and then did the printing and installation in-house.  The design that was developed communicates the same laid-back atmosphere as the restaurant does.
When looking at vehicle graphics, it is important to know what you are trying to accomplish and the budget you have.  Once those two things are determined, the rest is fairly easy, especially with a recognizable brand like Gulf Coast Grill.
Mark picked up his truck a couple of weeks ago and was all smiles.  He anticipates more growth down the road, and possibly even a food truck one day, which we would love to put graphics on as well.
If you'd like for us to contact you about graphics for your truck or van, please complete the form below and click the send button. Or, you can call (678) 714-8700 and let us help you with your truck graphics project.