Full & Partial Van Wraps
We often say that vehicle graphics, such as van wraps, are mobile billboards that advertise your brand whenever and wherever your vehicles are on the streets.
We provide wraps for vans, trucks, BIG trucks, boats, ski jets, you name it! Companies with fleets of all sizes of automobiles are our favorite to do.
Truck, Van Graphics & Fleet Graphics Gallery
Your Work Trucks & Vans should be Advertising Wherever it Goes!
Here we show you examples of the various ways to add graphics to all the vehicles in your fleet, whether they are trucks, vans or trailers. In this gallery, you will see examples of lettering, partial wraps and full wraps. Our team of professionals can help you create a great look to get your business noticed and will help you to stay in your budget. Please feel free to browse around.
Netherworld Haunted House
Some of the vehicle wraps we do can be very scary.  But not because of the layout of the vehicles but because of what gets put on the vehicles. In early August we were contacted by Ben Armstrong from Netherworld, "Atlanta's Ultimate Haunted House" which is considered one of the Top Haunted Houses in the nation.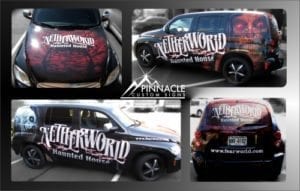 Ben had a Chevy HHR that had an existing vehicle wrap that was disintegrating due to its age.  He wanted us to strip it, update the design and re-wrap the vehicle.  In addition, he had just purchased a step van (which sort of looks like a UPS truck) and wanted to add graphics to that as well.  Since the step van was basically black already, we didn't need to wrap the whole thing, just the area above the side moldings, the front and the back door.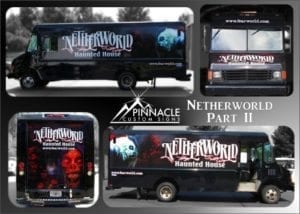 The biggest challenge was that Dragon Con would be coming up in four weeks, and he needed to get both vehicles designed, produced and installed by then so they could be in the parade on Labor Day weekend.  (You can see both vehicles in this video of the parade between the 42:22 and 43:30 timestamps.) We took the on the task and activated the whole Pinnacle team, including our both our contract designer and our contract installer.
We started with the HHR first.  It was wrapped several years ago, so the wrap itself was disintegrating on the car.  You can see in the "before" shots, that there were areas it was peeling, in addition to the wrap looking worn.  We removed it and cleaned up the car, leaving it looking almost brand new, since the wrap does a great job of protecting the paint underneath.  After the design was approved by the customer, we printed and then installed the graphics.
When the HHR was done, we then swapped it for the Step van.  This was the largest vehicle we ever parked in our new garage, and the ghouls and goblins on the side were huge and scary!!  We couldn't wait to get it on the road and back to the guys down at Netherworld.
Although this was a rather large partial wrap, it was fairly easy due to the flat surfaces to which the graphics were applied.In the spirit of Halloween, we also put together this video showing the job's before and after pictures with a little cinematic flair…
Netherworld is knows for its attention to detail with its special effects, detailed sets, exceptional themes and its remarkable actors and has been doing so since 1997.  This year promises to be better than ever.  Don't miss one of America's best haunted houses…visit Netherworld this Halloween season!
Fox Moving's Big Van Wrap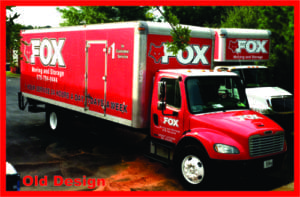 Fox Moving is a locally owned and operating moving company, who can handle commercial, residential, apartment, condos and all types of moving projects.  They handle all aspects of your move, from the first phone call until the project is completed and pride themselves on taking care of your belongings as they would their own.
Shortly after we moved to our new facility last year, Gerard Butler stopped in to talk to us about getting a truck wrap for a new moving truck he was planning to bring into his fleet.  He was quite familiar with the advantages of having his trucks wrapped, as their brand standards have trucks wrapped with a very noticeable red.
However, this time, Gerrard wanted to do something a tad different with this truck.  He wanted to keep the brand standards, but this time, he wanted to "go big" on the name and logo and fill up the side of the truck.  While the logo on the original design was large to begin with, our designers helped to "super size" it so that it really stood out on the sides of the truck.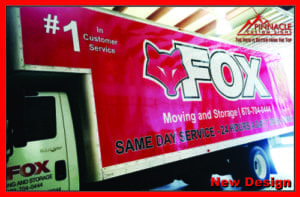 Since most box trucks we wrap are typical of service companies such as heating and air or plumbing companies, this truck was far larger than any truck we've wrapped before.  Additionally, even though we have a rather large garage area in our new facility, this truck would not fit, as it was too tall to drive into the space.  So, to solve this problem, we used their facility to do the installation.  Fortunately for us, they are one of our new next-door neighbors, and this was easily accomplished.
As you can see with Fox's new design, by maximizing the brand on the available space, you increase the likelihood of people remembering what they see while driving the busy streets.  You can't get this type of brand recognition with a plain white truck.  Our designers can help you maximize your message on your vehicles.
Fleet Graphics Provide Brand Recognition
Stuart Pro Air Services, a division of Stuart Mechanical Services, knows the value of fleet graphics, as they have been branding their fleet with graphics for several years now. Initially, as many business owners tend to do, they used decals to brand their trucks and vans. However, as the business grew, they began to invest in full wraps for all the vehicles in their fleet. According to the Outdoor Advertising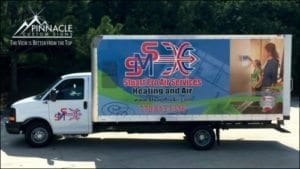 Association of America, a wrapped, vehicle can capture 30-70,000 impressions per day. Having a fleet of vehicles compounds this effect and builds significant brand identification, boosting name recognition fifteen times higher than any other type of advertising. This is why many service industries, such as heating & air conditioning companies are utilizing fleet wraps to build their brand, and Stuart Mechanical is no different.
In order to build brand recognition, a great design is key, making sure to include your logo, website and phone number in order for viewers to easily identify and contact you. However, with a fleet, there are often times that the design has to be tweaked to be sure to work with different vehicles within the fleet, each which serve a different purpose.
Meet the Stuart Fleet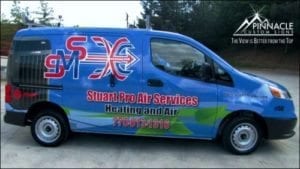 Stuart Pro Air has four basic types of vehicles:
Service Vans which are used for heating and air conditioning service calls. Most of these have been basic Chevy service vans. However, they've recently added a few smaller Chevy Express and City Express vans to the fleet.
Box Trucks which are used for installation of new HVAC systems,
Pickup Trucks which are used by supervisors, and
Fuel-efficient Priuses which are used by the sales people to make sales calls.
Meet the Stuart Design
While the basic design is almost the same for all types of vehicles, we have changed up some elements for the different types of vehicles to reflect the type of business being conducted in them.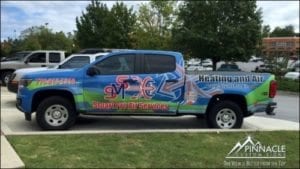 For example, on their box trucks, they always have some sort of lifestyle picture at the back, usually family, be it either a mother and daughter, baby, or other family member(s).  However, the back of the service vans feature a Trane air conditioning unit, showcasing the flagship product.
While the primary color for the background for all vehicles is sky blue, to represent air services, the trucks and vans have subtle differences.  The box trucks show a building floor plan transparency and the vans feature clouds focusing on air quality.  Finally, all vehicles prominently feature their logo as well as contact information and key messages regarding their services.
In early June, Steven Moore and Antonio Galvan contacted us to let us know that they were getting some new vehicles that would need to be wrapped since they were going to replace older ones being taken out of service. Little did we realize that there would be eight vehicles that needed to be wrapped!
Stuart Mechanical is found in the same industrial park as we are. To date, we have fully wrapped 25 of their vehicles and have plans to wrap their two Priuses in the near future. One of our favorite parts of working with them is seeing all their trucks "roll out" first thing in the morning when we arrive at the office.
If you are looking to build brand recognition with your fleet, we can help you with all aspects of doing that from developing a design to changing an existing design to accommodate different vehicles.