Vehicle Graphics
Vehicle graphics are one of the most cost-effective ways to advertise your business. They are often described as "mobile billboards" since they advertise wherever the vehicle travels: building brand recognition and advertising your company. This is especially true when you are traveling the busy roads in the metro-Atlanta area.
As one of the most affordable ways to make a statement, Vehicle Graphics are skyrocketing in popularity. Cost-effective and informative, lettering or wrapping your company vehicle increases exposure, displays information to your potential customers quickly, and establishes company identity. And whether it's one car or a fleet, your company's reputation is on display — your vehicle graphics must showcase your professional image.
Few signs deliver the value of a quality vehicle wrap. We have the insight and experience to get your job done right. We take the time to work with you to understand your message and help to design your vehicle graphics to get the most "bang for your buck", while staying within your budget. Vehicle graphics range from the application of vinyl lettering and decals to partial and full vehicle wraps.
We have the expertise to apply graphics all types of vehicles: cars, sports utility vehicles, vans, service trucks, pick-up trucks, boats and more. Explore the pages in this section to learn about the different types of vehicle graphics we can help you with for your vehicle or fleet. Let us help you with creating graphics for your vehicle that will get your business recognized by your customers and potential customers wherever you may go.  Be sure to also check out our Photo Gallery to see examples of the vehicle graphics we've done for our customers.
If you'd like for us to contact you about a vehicle graphics, please complete the form below and click the send button.  Or, you can call (678) 714-8700 and let us see how we can help with your vehicle graphics project.
Going from Partial Vehicle Wraps to a Full Van Wrap
Leonel Castillo of Castillo Painting has been a good customer of ours since shortly after we started our business. Castillo Painting was founded fourteen years ago with a vision of providing a reliable, competitive painting and remodeling service that would become one of the finest in the metro-Atlanta area. He proudly displays his motto, "Quality work that sets us apart" on all his vehicles. Castillo Painting Van Wrap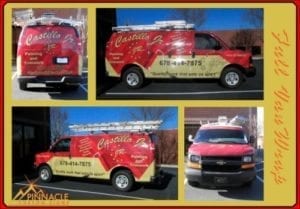 We have done many small signs for him and partially wrapped two vehicles: a KIA Soul and a pick-up truck, which can be seen in the two smaller pictures at the bottom of the page.
With his business continuing to grow, he recently decided to add vans to his fleet. And, for the first time, he wanted a full van wrap instead of a partial wrap or enhanced graphics as we did in the previous two vehicles.
He sat down with our production manager and lead designer, Joanne, to start the process. Leonel wanted to keep some aspects of his previous graphics including color, font, and logos. However, he wanted the wrap to also highlight his painting business.
After a few variations, Joanne came up with the interesting concept of having the wrap look like a newly painted wall, along with roller marks and a roller, while keeping the colors and text found on his partial wraps. The final design left no doubt that he was in the painting business.
After the design and print, the install was completed and Leonel was extremely happy with how branded his new vehicle is now, and plans to do a second van in the next few weeks. He is looking forward to getting his brand noticed as his crew drives around town sporting his new vehicle design.
Our Sign Introduced Us to Our Neighbor Global Electronic Services
Shortly after we moved into our new facility, we had a visit from Margie Petzold from Global Electronic Services, who saw our sign out front. Global Electronic Services provides industrial electronic repair and surplus solutions for all models and manufacturers of industrial electronics, motors and hydraulics. Their headquarters are located in four buildings at the back of the industrial complex where we relocated last winter.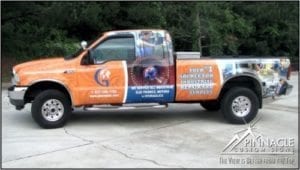 Margie mentioned that Global had a need for a lot of different types of signage, and while they had a company that they had been working with, they thought that with us being close to their facilities, they wanted to try using our services.
The first project on the plate was for a Ford F-350 truck wrap. The design phase for this project took quite a bit of time before it was finalized. It featured several photos showing examples of their unique equipment and services such as motor rewinding and balancing services.
Because the photos need to be enlarged quite a bit, it took some time to get the photos which had high enough resolution to provide high quality images showing what they wanted their potential customers to see. The design also included a listing of all the different types of motors & electronics they can service.
Predominantly featured in the design was their corporate colors of orange and blue – two complementary colors which are certain to draw the attention of other motorists. The orange sections had their logo in a "ghosted fashion" using a step and repeat pattern, building their brand recognition.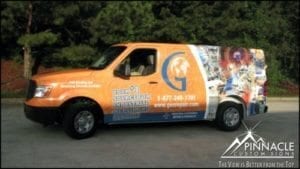 Shortly after that, we were asked to wrap a Nissan NV commercial cargo van. As many fleet wraps do, this van wrap had many of the same design features as the F-350. However, since this was a much larger vehicle, there was more "real estate" for additional graphics.
A unique feature of this vehicle wrap, was that they wanted the entire roof wrapped, something that isn't typically done on large vehicles unless they are driven near tall buildings where the roof will be seen often. Since we were wrapping the roof, and the rest of the graphics were quite busy, the design was kept simple and just featured their logo, a large letter "G" with a globe, on the custom orange background.
Since completing the two vehicle wraps, we have worked with Global on a few other projects, all of which keep a consistent look to their brand. Being a full-service sign company, we are able to fill many different sign needs, not just vehicle graphics. If you have several different sign needs, click the button below to contact us and get more information.