VoiceNation is a leading provider of virtual reception services and is based in Buford, GA.
They recently hired an interior designer to help them improve the work environment for their employees who operate their 24/7 year round live answering services. They reached out to us to help implement their ideas for office signage.
When dealing with an office environment, it is important to consider the goals of management and the ultimate effect of the graphics on the space. For instance, you want to encourage productivity, and you don't want to provide a distraction.
We focused on three areas of the VoiceNation office.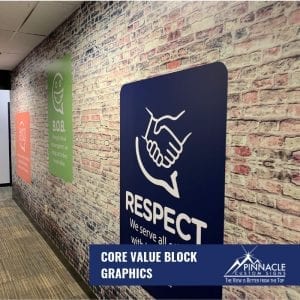 First, we added a wall wrap of the Atlanta skyline with a new VoiceNation lobby sign mounted on it. We had worked with VoiceNation fairly recently to install a lobby sign that was located in the same space which we removed when we upgraded the space.
Second, we used vinyl graphics to create a faux brick wall which covered on entire wall and half of another wall. The full wall featured color blocks that highlighted the core values of VoiceNation. The half wall used a chair rail to divide the wall horizontally.
Third, we used vinyl wall decals to wrap an entire wall in the break room in an outdoor scene. This is a way to bring some of the outdoors inside without taking up space.
We were thrilled to work with VoiceNation and their interior design company to make their ideas come to life. If your company is interested in using office signs to improve the work environment and brand your location, please give us a call!