In 2019, the team at the Big Green Egg came to us with a new project. They had recently purchased a new van and needed to have it wrapped and to have their old vehicle unwrapped so that they could sell it.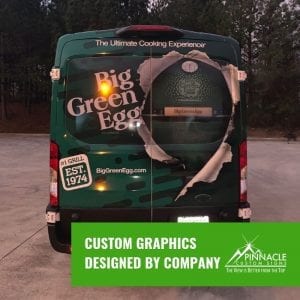 As with many of our projects, the Big Green Egg team came to use with a predetermined design for their van wrap. After looking over the design, we recommended a few modifications to it to increase the visibility of the design at night.
Wrapping a vehicle requires meticulous attention to detail to ensure that every panel is correctly placed to line up each other. This is made more difficult when a vehicles has intricate curves.
Two different types of vinyl was used in this project. The entire vehicle was wrapped in Avery Vinyl 1105SC that was digital printed with the design. We then used 3M's IJ5100R-10 reflective graphic film to go back over the logos and key elements to provide an improved nighttime visibility.
We were also able to remove the vinyl graphics from their old vehicle so that they were able to put it up for sale.
The Big Green Egg team was impressed by our quick turn around from initial project request to quote to completion.
The team at Pinnacle Custom Signs has spent thousands of hours wrapping cars, trucks, vans, box trucks, and many other types of vehicles for businesses across the southeast. If your business is looking to wrap a vehicle or multiple vehicles, we can help! Give us a call or send us a message online!