In January 2018, we completed a sign project for Saint Lawrence Catholic Church in Lawrenceville, GA. They had recently undergone renovations to their building and wanted to update their outdoor signage to match the new look.
While this project initially started in early 2016, we were working with the pastor at that time; however, in the middle of the process, a new pastor was named which brought us back to square one.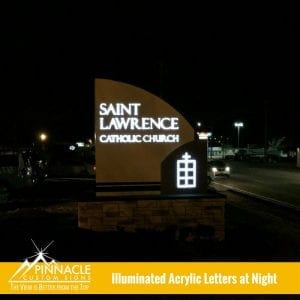 We hit another snag when the City of Lawrenceville rejected the approved design due to structural issues. While these issues were easily fixed, the design had to be approved by the church again which is where things slowed to a halt for 12 months.
In August 2017, the church decided they wanted to move forward and worked with us to finalize the new design and get it approved by the City.
The final sign had a foam base with a push-through acrylic topper that gave the appearance of dark letters during the day but lite up during the night. The foam base was matched to the church's stacked stone fascia. The sign was truly unique and production took longer than normal but we were able to install it and 2 other "enter" "exit" signs by Christmas Day.
If your church or non-profit is considering re-branding or enhancing your signage, we would love to work with you to make it happen. Give us a call or send us a message to get a free quote.
Read more about the Saint Lawrence Church signage project on our blog!