Logo Design
A good business sign often starts with a great logo!
A logo is "a graphic representation or symbol of a company name, trademark, abbreviation, etc., often uniquely designed for ready recognition."
Logo design requires a lot of attention to detail, as it gives people an idea of what your company represents. It must be clear and memorable to keep your brand unforgettable.
Our design abilities stretch well beyond signs.
If your company is in need of a new image, our professional designers can work with you to create a logo that's true to your organization – whether it is updating your current logo to bring a fresh look to it, or creating a brand new one from scratch.
Through creative consultations and our innovative design process, we can deliver a look that will put a new face on your business. Give your business a fresh start. Talk to us about a new logo design today.
Logo Design for Car Dealerships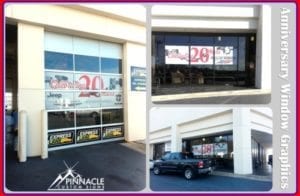 We have had the pleasure over the past few years to work with Scott Jenneman and Jason Joel, the owners of both Mall of Georgia Kia and Mall of Georgia Chrysler/Dodge/Jeep in Buford Ga. We have done several projects with them including post and panel systems, wall murals, window graphics and various other types of signs.
This year, 2014, is a big year for them. The KIA dealership is celebrating their 10th anniversary and the Chrysler/Dodge/Jeep dealership is celebrating 20 years. They approached us to come up with an anniversary logo for both dealerships that would incorporate some of their current logos and have a celebratory look to them.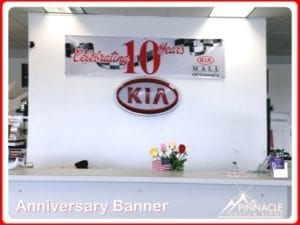 As far as the logo design went, they wanted the two logos to be similar in order to tie the dealerships together, but different enough to reflect the different brands. Joanne worked on the Chrysler/Dodge/Jeep logo first, utilizing ribbons, bows, and a patriotic
theme.
After a few different rounds of design changes, we came up with one that worked perfectly for them. At this dealership we installed window graphics on the windows for both the showroom and the service garage. We also did a quantity of static clings for them to put on various other windows at the dealership.
Next up was the Kia anniversary logo. We kept the look and feel similar, but changed things up some so that the Kia brand stood out. The logo was approved and we produced banners and static clings for this dealership. They will be using these logos throughout 2014 on other projects to promote the anniversary celebrations.
How To Develop Effective Logos
Sharing Your Vision
Logos have a unique way of catching attention and lodging themselves into our subconscious. As a business owner or the head of an organization, that's exactly where you want to be — inside your customer's head.
A good logo design should reflect the universal feeling of your company.  In designing your logo, ask yourself, what is the most important service we provide to our customers, who are we trying to attract and what is the most important feature of our business? Businesses developing designs should contemplate the answers to these questions in order to articulate they want their business logo to say.
There are several concepts to take into account when designing a logo. They include the visual aspect, as in the elements of the design, the principle aspect, as in what will evoke emotion and the illusion aspect, as in what message will this deliver subconsciously to my customer.
As many businesses have not studied these aspects extensively, it can be wise to look to graphic professionals for assistance. They will be able to assist you in meeting your needs while considering your budget, time constraints and usage.
Make It Last
We're bombarded with visual images everyday. Your job as you design a logo is to make yours stand out. With some professional assistance, you will be more knowledgeable in helping design your logo if you keep in mind the following rules.
Color matters. Different colors evoke different emotions — a pastel yellow reflects a more serene and calming feeling as opposed to a vibrant red, which may indicate excitement and enthusiasm. Every company has their own message, so find a color that fits yours.
Your logo should lend itself a variety of digital and printed formats, including business cards, letterhead, Web sites and external signage. Simplicity can take you far in this respect. A design using ten colors may look stunning and very detailed, but it will also be costly and impractical for everyday use.
Traditionally, logos will bear fewer colors and embrace a familiar shape that tells the story. Curved lines evoke emotion and action while straight lines tell the tale of a more serious, technical company. Using these techniques in various combinations can yield a message of strength and progress.
Your target audience, as with any form of communication, should provide the primary directives in your design. A younger age group tends to be more creative and impressed by flashy designs while the older generations may prefer something more stabile and familiar. Gender differences also reflect different styles. In order to attract members of both sexes, you need to be able to see through the eyes of men and women alike.
No one likes to feel puzzled. If your audience spends too much time trying to decipher out your design, chances are they forget who you are and move on. A professional will take these factors into account and help you design something unique that can stand the test of time. If you need some help, we offer Logo Design as a service.