Relocating Business Signs
Are You Moving Your Business to a New Location?
When you are moving your business to a new location, there are many things that have to be handled during the move. One of the most important is your signage.
Will you be able to use your existing signs?
Will you be maintaining your brand identity at the new location?
Can your outdoor signs be moved from one location to another?
How will your customers know where to find you after the move?
Will you need new interior signs at the new location?
Pinnacle Custom Signs is a full-service, commercial sign company that has you, the customer, in mind. It is our goal to be your one-stop-shop for all your signage needs. We provide a full array of products and services to help make your business relocation as smooth as possible.
Should You Move Your Existing Signs when Relocating Your Business?
Moving a business is not very different from moving your family to a new home. There are many tasks that need to take place at just the right time. When moving your business, in addition to all the other logistics that need to be handled is what you are going to do about your signage.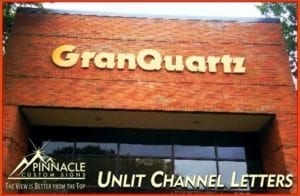 Will you get new signs, or will you move your existing signs to the new location? In early August, Glen Otwell with GranQuartz contacted us about moving their signs from their existing location in Tucker to a newer one in Norcross. For over 40 year, GranQuartz has provided the highest quality tools used for polishing and cutting stone, marble and tile.   Their product line includes CNC tooling, diamond tools, abrasives and adhesives.
Project with Multiple Parts
The first phase included taking down existing non-illuminated channel letters and refinishing them by sanding and repainting them so they would look "as good as new".
We also needed to remove several directional signs at the old location and re-purpose them to fit with the new location. To do this, we created new sign faces, using digital prints on "poly-metal" (Dibond) and adhered them to the existing frames.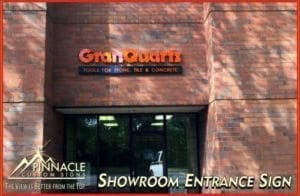 Finally, they wanted a new sign to go above the showroom entrance, as well as a few other directional signs around the facility to guide people to the right places. For the sign above the showroom entrance, we used High Density Urethane (HDU) covered with orange acrylic to match their logo. In order to accommodate the tag line, the HDU had a black acrylic face with orange cut vinyl lettering.
The goal was to complete all of these projects prior to their move-in, which we were able to accomplish as requested.
However, four days before the move-in date, we received an email from Tom Jones, their Director of Marketing, saying that they had not yet procured lobby signs for the building. Typically, it takes two to three weeks for design, production and installation to take place, so we had to work quickly.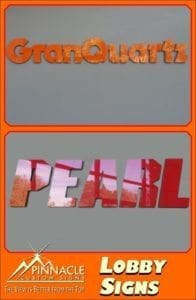 There were two lobby signs that were needed, one for GranQuartz and one for Pearl, a unit of GranQuartz focused on selling to businesses. The team put their heads together and came up with a clean, simple design that was easy to pull together quickly.
Both signs consisted of ½" black PVC with an acrylic face, routed in the shape of their logos. The GranQuartz lobby sign used the same orange acrylic that was used on the showroom sign, while the Pearl sign used red acrylic. Both signs were installed on adjacent walls.
In the end, GranQuartz used their existing signs as well as obtaining new signs. What will you do with your signs when you relocate your business? Contact us for a free consultation to see how to best handle your signage when you move by clicking the button below.
Relocating Business Signs for SCN
Sports Challenge Network (SCN) moved to keep up with new business.
In January of 2012, Sports Challenge Network (SCN) moved into a new office location in Dacula, GA. SCN is the maker of interactive video applications like X-Bowling for mobile devices such as the iPad and iPhone.
Since this was a brand new location for them, they needed both interior and exterior signage and wanted a professional look. We provided them with frosted vinyl for their glass doors, dimensional letters for their wooden doors and a backlit channel letter sign for their lobby.
In May 2012, Sports Challenge Network asked us to provide them with a trade show display for several upcoming trade shows they were participating in to promote their product. Before the first show, the client came to our facility and we did a practice run of setting up the display.