Signage Installation
Your sign is more than a piece of plastic or metal. Done well, it should emit a professional image and evoke a lasting first impression. That job shouldn't stop with the design and fabrication of the sign itself.
To help make that statement, we offer installation as a service, ensuring your signage is displayed to perfection. From simple lettering on windows to more complicated electrical and illuminated signs and everything in between, we have the skills and qualifications to get it done right. Talk to us about the installation requirements of your sign, and how our services may help.
City / County Sign Permitting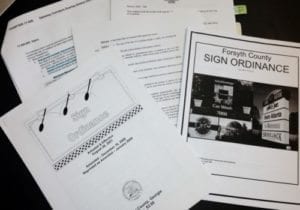 We can BLESS you with PEACE OF MIND dealing with your local government
There are many things a first-time sign buyer will learn during their initial experience. For those creating large, permanent and prominently displayed signs, obtaining city permits is often one of the most difficult lessons. With all the different municipalities in the metro-Atlanta area, knowing the jurisdiction and the particular sign ordinances that apply to your locale can be confusing, even for the experts.
Applying for and receiving a permit can be a complicated and burdensome process. After working with so many different city and county planning organizations, we have "learned the ropes" so that you don't have to worry about the specific regulations governing your location.
We offer Sign Permits as an added service. Our experience with permit applications means a smoother, more streamlined route to your permit. This way, you are free to handle taking care of your business while we take care of your sign needs. This ensures you that the new sign will meet all sign ordinances for your particular locality.
We'll discuss your situation and set you down the right path, or take care of the whole process for you. If you're concerned about permit requirements on your sign, just give us a call at (678) 714-8700. Or, if you'd prefer for us to contact you about your permitting needs, please complete the form below and click the send button.
The Power of Pinnacle – Sign Installation Teamwork for Paradise Cove
When Paradise Cove Car Wash decided to install digital reader boards as their sign for the recently opened Car Wash in Dallas, GA, it was definitely not an impulse decision. We started the consultation process with the owner of Paradise Cove seven months ago to decide the right size and messaging for the new location.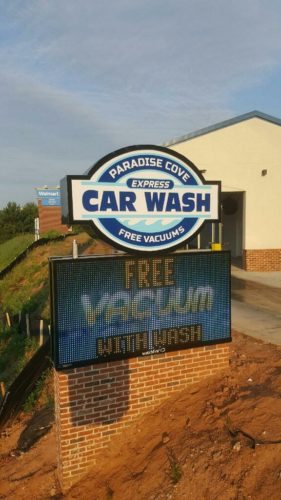 The decision to use digital reader boards for signage is not a light decision because it is a major investment for an upstart organization.
However, through communication with one of our sign vendor's we were able to use the vendor's demo truck to actually go onsite with different types and sizes of signs.
By employing our vendor resources on jobs like this, it help us to show the combined efforts of Pinnacle capabilities coupled with excellent vendors for the sign products.
The onsite demonstration allowed us to actually show the owner of Paradise Cove Car Wash what the sign could look like on location in Dallas. It made the process of finally deciding on 2 – 4' by 8' digital reader boards an easier investment for the new company.
Once they realized the value of investing a larger sum of money up front, they were more convinced that reader boards were the right investment for their car wash. Paradise Cove can now customize messages to capture more car wash traffic with the digital display options. The signage can be adjusted toward seasonal sales and reflects the constant branding and logo of the business.
At Pinnacle, we understand that investments in your new business can make or break the ability of your company to succeed. That is why we are willing to go the extra mile and help you make sure you are getting what you want and what you need to grow the business further.
If you have an upcoming signage project and would like a free consultation, give us a call. We would love to help you make your vision become reality.