On-Site Sign Survey & Analysis
Let one of our PRO's help make the biggest decision of your business's future!
There are countless situational factors that can impact your signage solutions. Since we have been working in the sign industry for a long time and have experienced about every situation there is, we can help you tremendously with your on-site survey and analysis of the layout of the property grounds.
We keep these factors in mind while providing this service:
How high will the sign be displayed? Will it be subject to wind and sun damage?
How far away is the typical viewer? How does light and shade impact your color choices?
Are there obstructions that need to be avoided so the sign will be visible to all?
There are legal issues that have to kept in mind as well!
These are just a few things to consider. Working for years in the industry, we know there are many, many more.
The most reliable way to provide the best sign for your situation is through a professional on-site sign survey and analysis. After taking a close look at your setup, we can suggest the appropriate type of sign, as well as sign location, materials, colors and more. Signage can be a lasting investment.
We Find the Best Place to Put Your Sign
Location is a key element to consider when you use signs to physically mark your business, to try to get customers to stop and shop, or to create awareness for your product. Attracting customers is extremely important because they help boost sales and revenue growth. Putting your signage in the right place will help draw these people in and make them aware of your products.  Here we explore some of the best places to put a sign to attract customers to your business.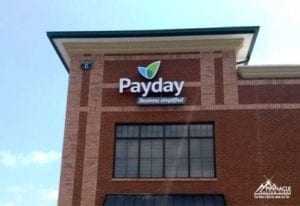 Building Signs
There are a few top places to put a sign to drive the most traffic. One good place is right on your very own building. Creating a memorable business sign on your building will certainly get people to notice your business. This identifies where you are located and if your sign is catchy enough, people will tend to remember it. There is nothing worse than getting lost trying to find a business because there is no signage to identify the building.
Vehicle Graphics
Car advertisements create massive exposure and are especially important in areas where jurisdictions have strict sign regulations that don't allow for much signage. Vehicle graphics are especially effective in places where there is a lot of traffic due to heavy traffic.  The best part about them is that they never stop working for you; it is a non-stop advertisement that reaches a huge amount of people on a daily basis. By using a full vehicle wrap or even magnetic signs on both sides of the car, it ensures that someone on either side of you can clearly see what you are promoting. Just make sure to be a courteous driver!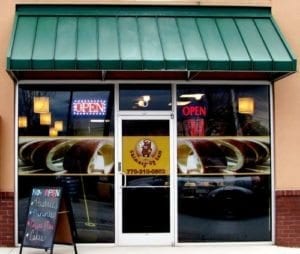 Window Signs and Graphics
Window signs are another great option because they can intrigue customers by grabbing their attention and creating curiosity. They are a great way to appeal to foot traffic (the presence of customers in and around your business). You can display what your business does or announce any special deals that you may have going on.  In our picture here, this business tried to entice customers by showing how yummy (and unusual) their chimney cakes are.
By the Road
The last key location to place your sign is somewhere near heavy traffic that is close to your business. If you present a compelling sign that showcases your product, it can potentially cause drivers to stop and eventually become customers for you. It never hurts to put your sign out there and attract as much attention as possible. If your jurisdiction has certain regulations about outside signs, just make sure to be aware of them and stay within the guidelines so that your sign doesn't get taken down.
Remember, a lot of the time less is more and make sure to keep your message short and simple about what your company offers. This way, people can read your signs quickly and with ease. It is all about location and how your sign can drive traffic. Contact us for a free site survey so we can help you figure out where the best place is to put your new sign.
Expanding Business Needs New Signs for 3 Locations
Sometimes there are laws passed that will benefit small businesses.  One such law recently passed in the state of Georgia was making the sale of fireworks legal in the state, effective July 1st, 2015.  With the passing of this law, Phantom Fireworks, whose tag line is "Lighting Up Backyards of America from Coast to Coast®", will be expanding business operations into the Atlanta market.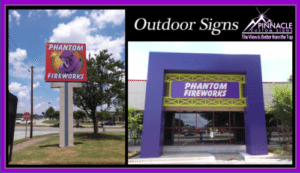 In early June, we were contacted by Joe Kurdupel from Phantom Fireworks who was looking to get three stores up and running so they could be open before the July 4th holiday.   The three planned locations are in Buford, Duluth and Morrow.  Needless to say, that was a tall order in a short time-frame, but it is important to accomplish this in time for the holiday known for fireworks.
We started the project by doing site surveys on all three properties to take proper measurements.  Next, we determined the jurisdictions the three locations would reside so that we can establish the correct requirements for the sign permits they'd need for their external signs.
Each location was a little different.  One was in the City of Morrow, which has a sign regulation stating that sign faces for pylons need to be embossed.  In Gwinnett county, which covered the Duluth store, the size of the sign you can have is based upon the square footage of the building.  And, finally, in the City of Buford, you are only allowed 5% of the area of the front of your building.  Understanding the differences and variances in multiple locations allows us to be a one stop shop for our customers.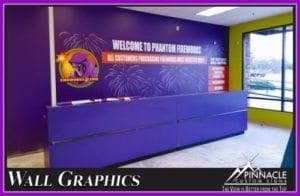 Once we did all the research we presented Joe with a full proposal of what it would take to get temporary outside signage up with the permanent to follow afterwards.  After he reviewed the package he gave us the go ahead to move forward with permitting and production.
Once the exterior signage was settled, we were asked about interior signage, specifically wall wraps behind counter to show off their brand.  In addition, we did some white ready-to-apply (RTA) vinyl for doors and windows.
By the end of June, all temporary outdoor signs were installed, interior signs were installed and permanent signs were put into production.  We hope to finish up this project by the end of July.  They have several more stores opening up in Georgia in the next year or so and we look forward to servicing their needs at these new locations.
Is your business expanding?  Whether you are expanding into a larger facility, or opening additional locations, we can help you with the indoor and outdoor signage the expansion requires.