Boat Wraps
Get the BEST looking boat on the Lake!!
You've seen traditional car wraps and vehicle graphics. But did you know we can design something for your boat or Jet Ski as well? Customize Your Boat with Great Graphics!
Whether that boat is used for weekend fishing trips, or to cruise the lake while skiing or enjoying a warm summer day, give your boat its own personality as you sail all over Lake Lanier!
We're sure you have a great name for that vessel… Make it stand out in style! We can design a look that gives your boat its own character. It can be as simple as lettering the name or we can jazz up the name with graphics that give the name a personality unto itself.
If you are looking to have something a more than just a name, we can help design a custom wrap with full-color graphics that will turn heads as you cruise the lake and shows off your individuality.
When you hit the waters surrounding Buford, Gainesville and Flowery Branch, we have a boat wrap or graphic solution to make your day at the lake truly unique. But, if you are just looking to get your registration numbers or just lettering your boat name done, we can help with that too!
---
Photo Gallery
Give Your Boat a Little Extra Personality!
Now that you have the new boat or jet ski, make sure you show it off to everyone on the lake with the addition of some great graphics. We can do simple lettering (such as adding your "reg" numbers), add a fancy name with a logo or go all the way with a great looking wrap. Here are some boats we've had the pleasure of enhancing. Please feel free to browse around.
---
Make Waves This Summer – Custom Boat Graphics
With summer right around the corner, many of us are craving the sun, fun, and water activities that typically kick off on Memorial Day weekend.  For those of us with boats and jet skis, that usually means that we have spent the few weeks leading up to this holiday making sure everything is in top shape before we set sail.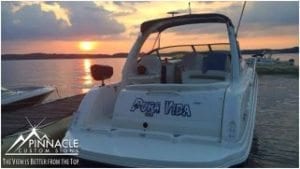 However, fine tuning your boat can be more than just checking the mechanics — it often means replacing decals such as your boat name or updating the boat cosmetics before hitting your favorite water spot.
Boat and Jet Ski graphics have become more popular over the last few years — from updating boat names with more custom decals to custom boat wraps that feature specific graphics — for private and corporate boats alike.
Custom Boat Decals come in all shapes and sizes that include making sure your boat has a name while cruising around to ensuring any numbering for boat registration or permit numbers are visible while in the water.   Custom Vinyl Boat Letters can last for years and be applied so that you can be seen both day and night. The lettering can be customized to match your choice of color and the font-style that either suits you best or is required by your permit.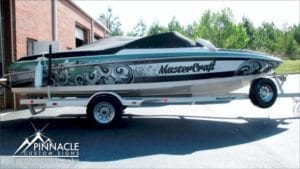 Custom Vinyl wraps are not just made for cars, with the advancements in technology wrapping boats have become a solution to being seen on the surf.  Now that summer has arrived it is the time to get the eye catching look for your marine craft that you have long desired. There are no limitations to what marine vehicles can be wrapped. Along with boats; jet skis, sea-doos, and even yachts can be wrapped.
Why wrap your boat?
Personalization– There is no better way to make your boat your own than to create custom designs to show off your favorite summer passion.
Protect Your Investment– Vinyl boat wraps have a clear protection layer that protects your gel coat from harmful UV rays, preventing oxidation and fading. Not to mention, boat wraps save your exterior from minor scratches. When the wrap is removed, the exterior will look identical to the day you wrapped it, protecting your boat's resale value.
Security– Boats do get stolen. When your boat is a traditional white, it easily blends in with other boats and makes it easier to conceal.  When you customize your boat, it makes it not only easier to track down but it deters thieves from targeting your vessel.
Advertising – Regardless of where your boat is, in or out of the water, with a vinyl boat wrap people will see what you are selling or telling. With the usual size of area you have to work with, an added benefit to the advertising wrap route is that you can leave a lasting impression that doesn't require you to carry business cards out in the water.
Engagement– Every fisherman has a story and custom graphics give you a story to tell! If you get really creative with your graphic, people will want to hear your story, see more of your graphic, and get the details. Engagement leads to people sharing your story, perhaps even enough to mention you and your boat.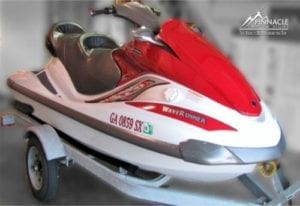 Our team of professionals understands the nuances of applying vinyl decals, graphics, and wraps.  So whether you are headed out to see our friends at Lanier Islands or taking the family down to the Gulf Coast, we can help make sure your boat is looking its best when you get there. Give us a call today for a free estimate on making sure your water vessel looks it best when it sets sail this summer.
If you'd like for us to contact you about graphics for your boat or jet ski, please complete the form below and click the send button. Or, you can call (678) 714-8700 and let us see how we can help get your boat noticed out on the lake.