We first worked with Rector, Reeder and Lofton, P.C. back in 2013. They updated their lobby sign and door vinyl graphics for the main entrance to their Lawrenceville Office location.
In the last 6 years, they have grown and moved their offices to a brand new location in Loganville. They asked us to help them brand their new location by relocating their lobby sign and installing new door vinyl graphics on the doors.
Relocating Existing Signage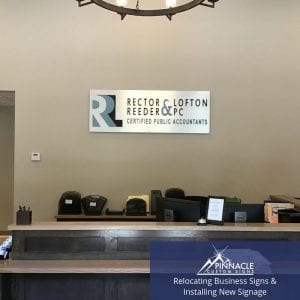 In 2013, we produced a lobby sign for Rector, Reeder and Lofton that fit the culture of the office and reflected their  three underlying principles of professionalism, responsiveness, and quality.
The sign is built from a brushed aluminum poly metal backer with 1/2″ PVC letters that have digital print overlays for the coloring. By mounting the sign with 1″ by 1″ brushed aluminum standoffs, the sign stands out from the wall and become a dimensional sign.
PolyMetal sign panels are unique in that they give the appearance of a solid piece of metal while being light weight and cost effective. This is possible because the material is made of a thermoplastic core that is sandwiched between  two sheets of aluminum. This not only makes it light weight and affordable, but it is also more resistant to corrosion and easier to digital print on.
Vinyl Door Graphics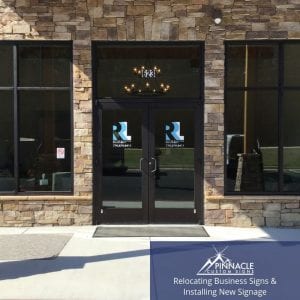 The new office location had several doors  that required vinyl graphics including the main entrance and three side entrance doors.
We modified their logo to fit to the door with additional text for either their phone number or "please use main entrance". The vinyl used was 3M™ Scotchcal™ IJ35C with 3M™ Scotchcal™ Gloss Overlaminate 8508. That is to say, we printed the graphics onto an opaque white vinyl which we applied to the door followed by a gloss overlaminate that adds additional protection to the graphics, guarding the graphics from abrasion, moisture, and UV damage.
Building Strong Business Relationships
Rector, Reeder and Lofton, P.C. is just one example of the customer service we provide at Pinnacle Custom Signs is the foundation of our long-term relationships with businesses. We are pleased to continue working with a business as it grows and evolves. For more examples of our work, check out our work with Charter Global, Workout Anytime, and many others.