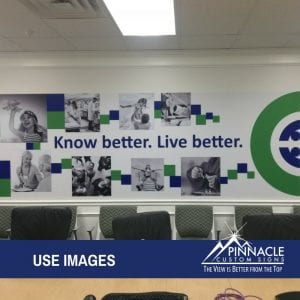 In 2018, we were contacted by AEON Global Health about helping them rebranding their image. The challenge was that they were on a tight deadline due to a planned unveiling party in only a couple of weeks. Thankfully, they had the artwork ready to go.
In the end, we installed a variety of wall graphics, floor graphics, dimensional letters and banners by the deadline by working around the clock. Some of these graphics include:
Focal Wall that conveyed the vision of the company

Wall decals

that used icons to help improve the readability and information retention
Floor graphics that added an unexpected element to the space.
We were able to work on a tight deadline for this project because of our in-house capabilities, the willingness of our team to work weekends, the preparedness of AEON with the majority of the design assets on hand, and the excellent communication throughout the project.